(Winning images were chosen by participating students. Note: our inaugural Spring 2018 #USvsHate project accepted only hand-drawn or digital images for poster or sticker designs. We then started to accept #USvsHate messages in any media.)
---
P., A., D., A., and H., 10th Grade, Chula Vista, CA
(This first #USvsHate message winner was made into a 4-inch by 6-inch sticker.)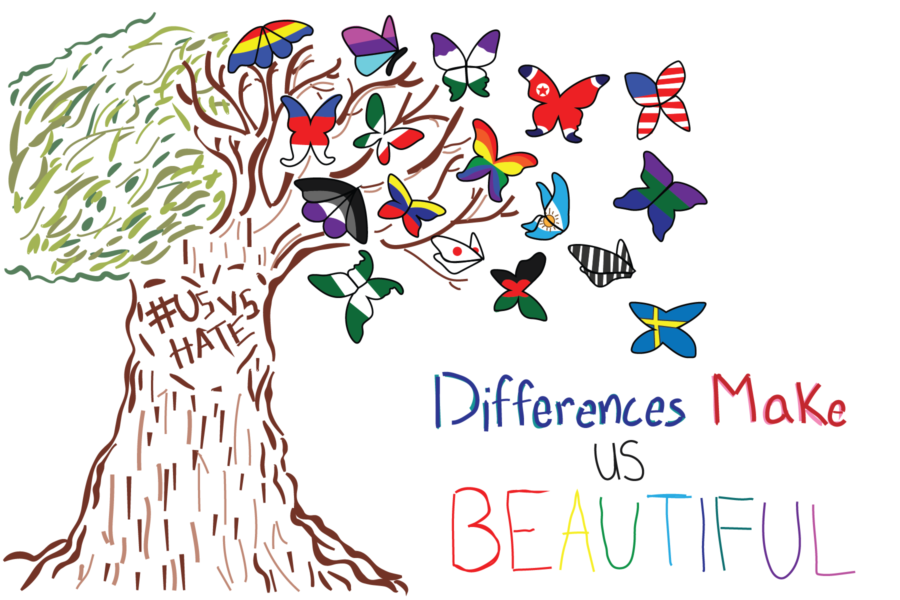 Download Image
Teacher Ms. Short chose a two-lesson inquiry that produced this winning message.
"I started off with: [the Anti-Defamation League's] We Were Strangers Too: Learning about Refugees through Art. I had them do a gallery walk with the artwork on that one and we gave verbal feedback and had an overall discussion, tying it in with the Holocaust and the refugee situation during WWII. Then we did [from the Morningside Center for Teaching Social Responsibility]: Intersectionality: What Is It? How Can It Help Us? Students learn about the term 'intersectionality,' and consider what role it played in the 2017 and 2018 Women's Marches. I used the idea of intersectionality to bring in other ideas about identities, and seeing the people around them as not just one thing, but a person with a multiplicity of experiences."
"Differences Make Us Beautiful" was a student choice for an #USvsHate sticker. As Ms. Short put it, "My group of girls had a great back and forth with each other before they started. I let them pick groups for this, so they were already comfortable with each other, and shared personal experiences and insights. They went back and forth for a few minutes before they landed on the idea of butterflies. All the credit for their image goes to them. I just gave them basic guidelines of making it easy to read, kind of summative of what they learned, not going too complex or overly detailed. I pointed out the art that I left up from the 'We Were Strangers, too' project, and how those images condensed a lot of experience into a concise image. Then students took it from there!"
A., 10th grade, Chula Vista, CA
(This first #USvsHate message winner was made into a classroom poster.)
Ms. Betts explained her class' #USvsHate journey this way:
"When browsing through the resource list for #USvsHate, I realized how easily I could incorporate a lesson or two because the material corresponded so well with the book my students were reading at the time (Night by Elie Wiesel). I am passionate about spreading kindness and encouraging students to do so also. Students were recognizing that one of the book's most important themes is that people need to speak up in times of injustice. We connected this theme to Mica Pollock's article, "Overcoming Hate in our Backyards." When students made the connection that acts of hate or injustice are happening even more, many became very enthusiastic about spreading anti-hate messages to their fellow students. We also analyzed and discussed the  Anti-Defamation League's "Pyramid of Hate." Students claimed that they began questioning their thoughts, words, and actions when they realized that name-calling, tolerating hate, and using slurs are on the same pyramid as acts of violence and mass genocide. This provided students with a language to call out acts of hatred and explain how they are a 'slippery slope' to horrific injustice.
"Amber, a 10th grader, painted this winning watercolor to demonstrate how hate manifests itself in many ways, but that it's still possible to use peaceful protest to combat it and champion love. This reminds me of the notion that we can't just be against something, we need to believe in something too."