This year, the nation has seen a lot of arguing over what should be taught in U.S. schools. We haven't heard nearly enough from youth themselves! So, in this Special Call to Action for Spring 2022, we asked youth to weigh in directly on inclusive teaching they wanted to see in schools. Winners and finalists were chosen by 2022 #USvsHate participants. We'll be asking youth again in 2022-23 school year, so stay tuned!
Also see our Spring 2022 classic contest winners!
Winners, Special Call 2022
11th Grade, La Habra, CA
The student creator shares, "I have read books of all kind all of my life, in fact many of the books on a list of all banned books I have read and thoroughly enjoyed and or learned from. In the wake of so much division and social/political unrest, it is no longer the time to sit around– it is the time to use our voices and speak out about injustices and raise up others voices who are drowned out by the crowd. I wanted to add to fight against discrimination and injustices through something that is personal at heart to me: books. Lifting up and spreading the word about the problem of discriminatory censorship of books can help marginalized groups. And even help to teach future generations much needed information and stories to not repeat this terrible history of bias."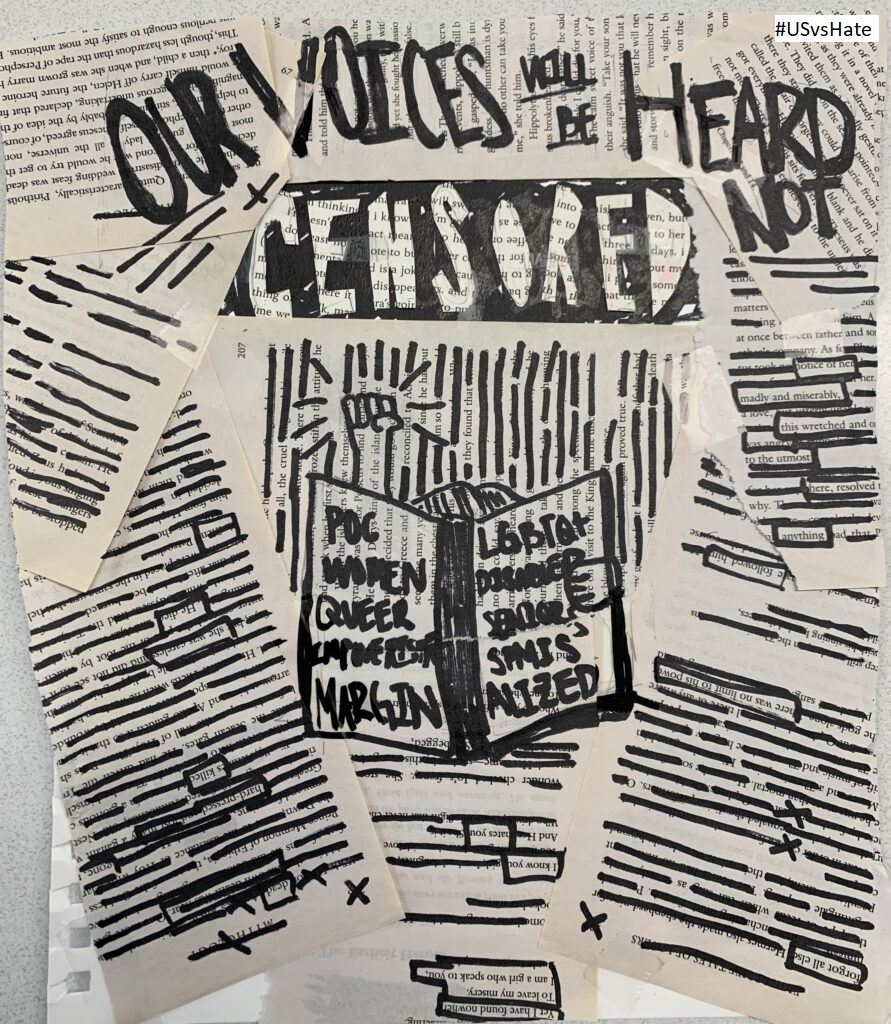 Download image here.
---
Miles and Brooke, 9th Grade, Studio City, CA
Student creator Brooke says, "The idea of my #USvsHate project was to combat homophobia in youth by illustrating how the lack of teaching about LGBTQ+ communities in schools creates a breeding ground for hatred. I have personally grown up with a negative impression and lack of information about the queer community because I was never properly educated about it, and many children are never given a chance to combat their preconceived notions on the community because their educational setting does not talk about it. …schools must teach children about this in order for the next generation to be as inclusive as possible."
---
Chloe, 9th Grade, Connecticut
Student creator Chloe says, "I wanted to…convince others that diversity is what makes our world beautiful…I dream that my speech will inspire the people of the world to be promoters of equality and justice and that one day, our nation will truly have 'liberty and justice for all.'"
---
Milla, 9th Grade, Studio City, CA
Student creator Milla says, "I want students to know they're not alone, and that they can get through this. It's called 'Boat' because I'm going off the message that we're all in the same boat in a certain sense. It's going be cool, don't worry. People with mental health issues are usually overlooked and disrespected by parents, teachers, and peers … It's hard, especially for students, to feel like they're doing something right."
---
Jamie and Zachary, 9th Grade, Studio City, CA
Creators Jamie and Zachary say, "We decided to compose a poem that calls out the implicit bias of many educators in its various forms…[like] commonly used epithets and stereotypes, generalizations, and shunning of students based on their racial, religious, sexual, and gender identities. …one single comment from someone you are supposed to look up to and learn from can change your entire view on yourself. Being aware of implicit bias and being able to stand against the pain that it causes will allow there to be a growth."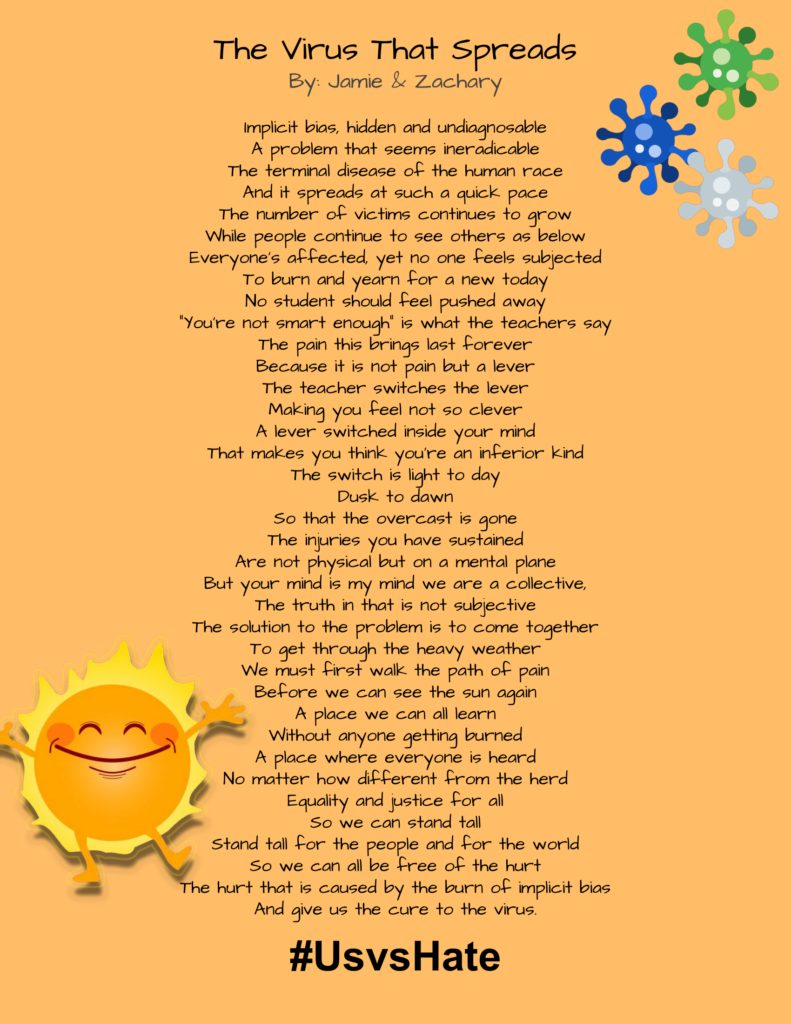 Download image here.
---
Finalists, Special Call 2022
---
5th graders, Chula Vista, California
---
Nicci, 10th Grade, Ohio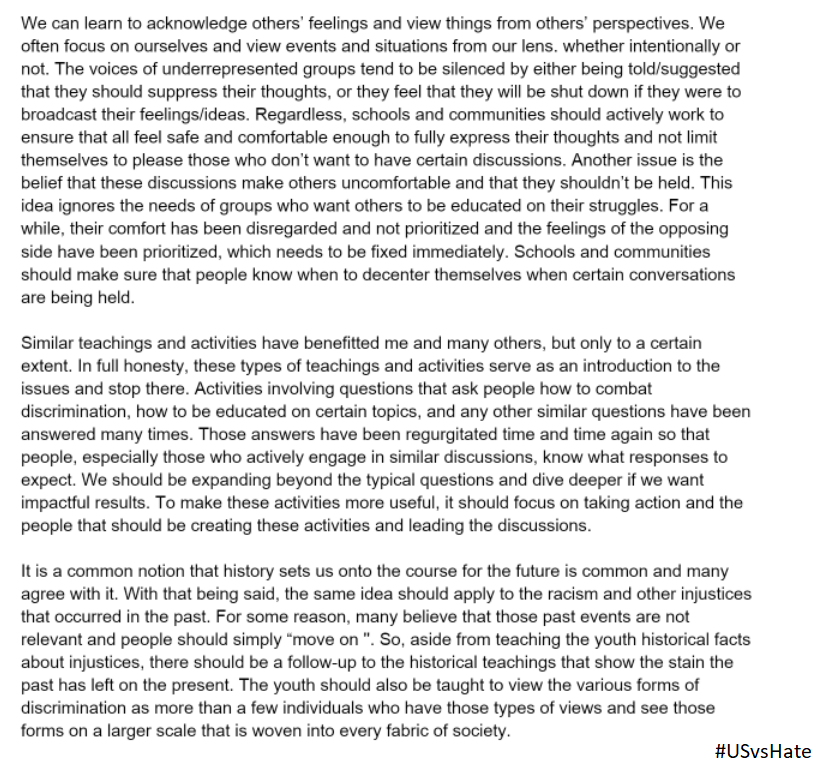 Teacher Jennifer adds, "This is an American literature class, and this year, we've been attempting to include more diverse authors into the curriculum while also addressing our required reads. Alongside Of Mice and Men, students read Jason Reynolds and Ibram X. Kendi's Stamped From the Beginning before transitioning to The Great Gatsby and an exerpt from James Loewen's Lies my Teacher Told Me. More recently, students read several essays from the 1619 Project as well as The Adventures of Huckleberry Finn. Students have been analyzing the ways in which people in positions justify the mistreatment and abuse of others and ways to advocate for social justice in said situations."
---
4th Grade, Southern California
The first student commented on #USvsHate overall, and the second wrote a letter to next year's teacher about specific things students should learn.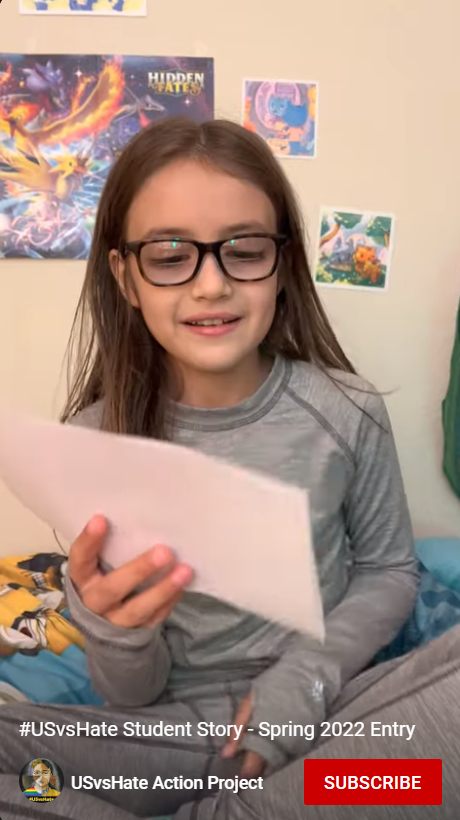 ---
T, 8th Grade, New York
Student writer T says, "As a bisexual student who is currently closeted to my homophobic family, it isn't easy, but anyone could have told you that. So, I did what I do when I usually face conflict: write about it. It can be a living nightmare sometimes, but I know there will eventually be a right time to tell them. Until then, all I can do is support others in my community and try to educate people as best as possible."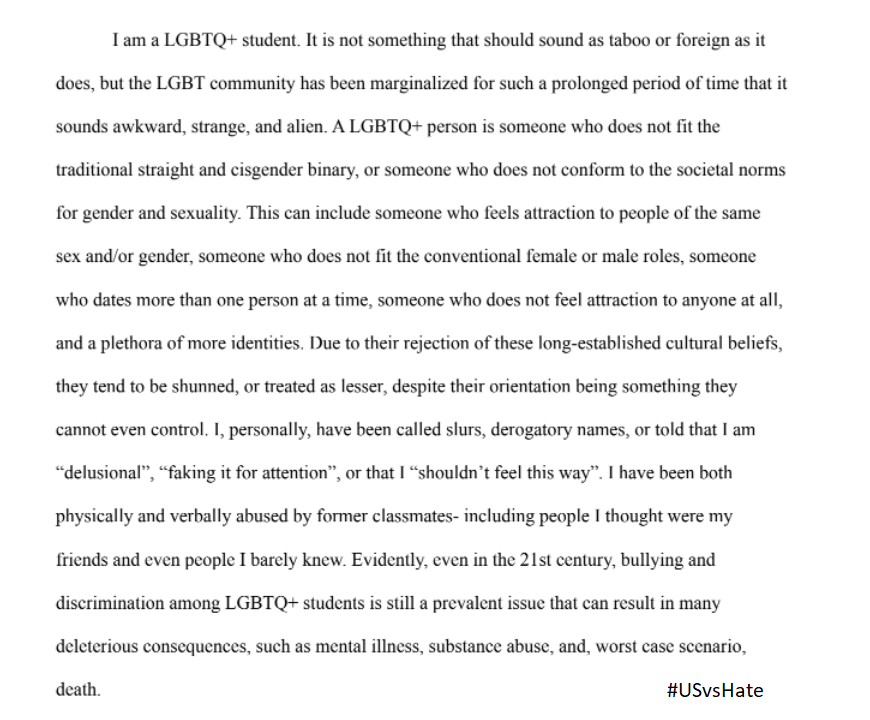 ---
Nicole, UC San Diego, La Jolla, California
Student creator Nicole shares, "The classroom should be a welcoming and safe place for ALL students and I think as much as students need to learn compassion for each other, I think teachers should be non-biased. Therefore I intentionally placed the pride flag, the Black Lives Matter sign and the religious symbols on the teacher's desk. It is the teacher's and school's job to ensure that all of their students have the resources and tools they need in order to be prepared for college. School administration should empower and support their teachers, so that the teachers can do the same for their students."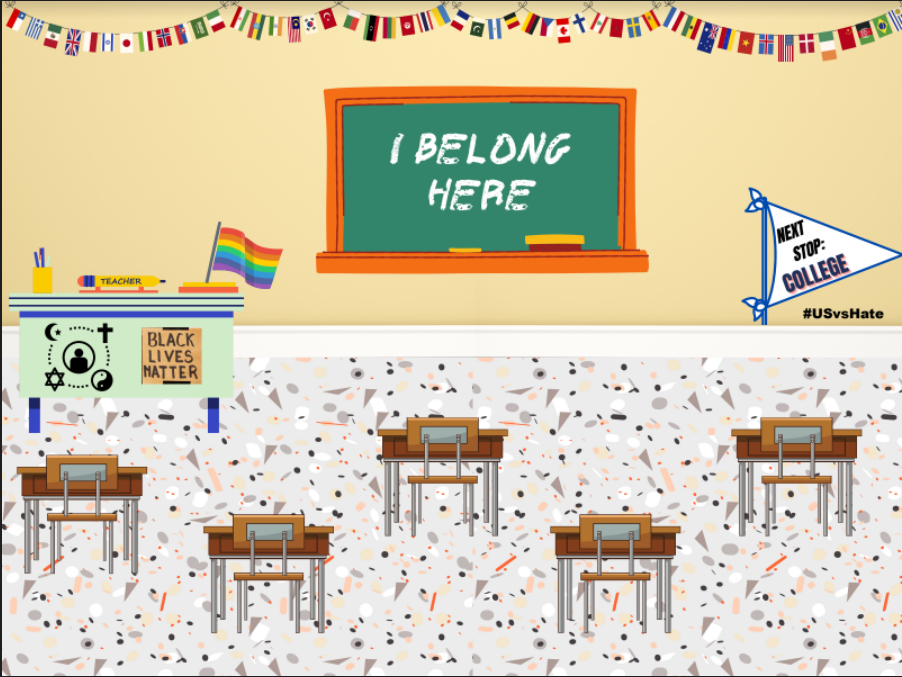 ---
See the Spring 2022 Classic Contest Winners here & Conversation Starters here!