Ewalani, Grade 5, San Diego, CA
Student creator, Ewalani, shares that she is very into social issues and this was something that spoke to her.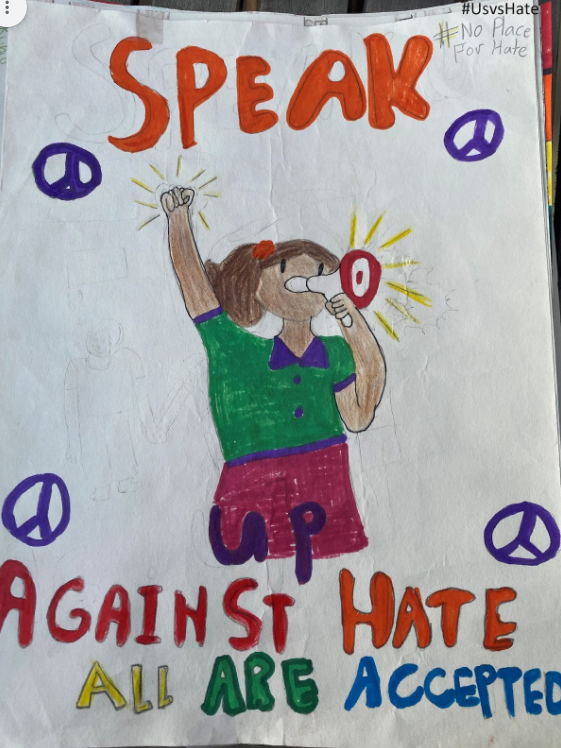 Download image here.
---
Derek, Grade 6, San Diego, CA
Derek shares, "I thought this artwork and message was simple but complex at the time."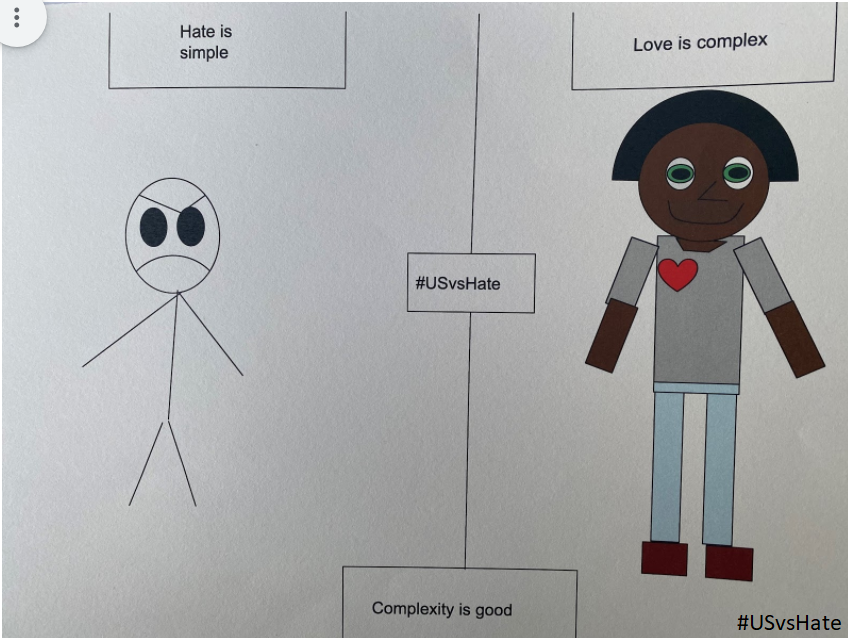 Download image here.
---
Janette, Grade 9, San Diego, CA
Janette shares, "My first intention behind creating this was to kind spread awareness of how common sexual remarks can be to teenage girls. I originally came up with this after realizing the comments that were often made to girls in the beginning of the school year with regards to the dress code. The words said are about comments made to girls about how they may be distracting and the hands moving show two sides, whichever you wish to interpret. Along with many teens I have had comments like this made towards me even at a young age which can be very infuriating and uncomfortable for a young kid. I wanted to express how these comments can make you feel insecure and even mad at society being exposed to such infuriating situations.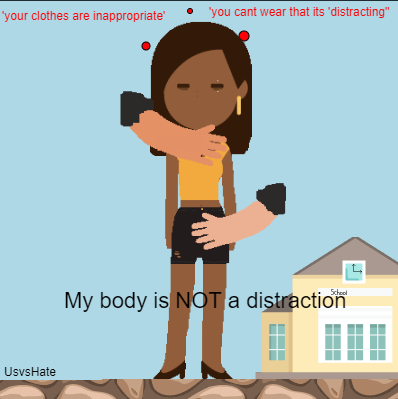 ---
Erin, Grade 9, San Diego, CA
Erin shares, "My USvsHate art symbolizes how Mexicans are treated here in America. Since we are from another country and a lot of Mexicans come to America people in America call us aliens. This is a very cruel thing to say when we all are American citizens and should be treated all the same. We shouldn't be treated differently just because we were born in another country because most of the population in the United States ancestors were born in another state. As a Mexican/Salvadorian I hope that my animation will help make a change in how Mexicans are treated."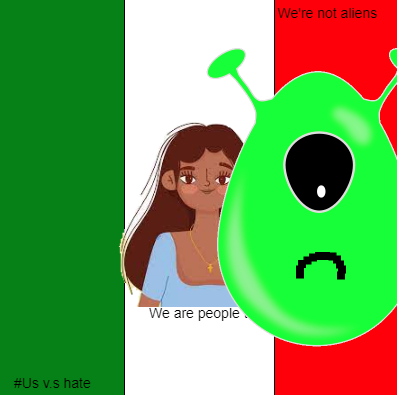 ---
Antonio, Grade 11, Studio City, CA
Antonio shares, "I have many friends and family members whose daily lives are affected by racism, and I somehow wanted to show that. I decided to focus on my close family friend, an African American mother of two teenage boys. She explains what she has to endure every day: her deathly fear of cops and her constant anxiety raising two young black boys. All the stories she shared were very eye-opening, and I feel like they are essential for everyone to hear. My thesis for this video is that racism is taught. No child is born racist. That's why I also reached out to a few kids, letting them spread their innocent love in this video. They are the future. I wanted to show that kids are born happy and born to love, but then some are taught to hate others based on the color of their skin. Racism starts at home. It bleeds out into the real world after years of growing up in an ignorant household. And with it, the cycle continues."
---
Soha, Grade 11, Studio City, CA
Soha shares, "I decided to create an anti-hate message by asking people to honestly respond to the following: How do you identify yourself? What is your message to combat hate? Tell me about an experience you've had with hate, stereotypes, etc. relating to a part of your identity. I also asked each person to take a natural, authentic picture of themselves, which was how I incorporated photography.
The ultimate goal for creating my anti-hate message is to show the world that every human being is different and equally valuable. In our world, there is hate, but we as a community can overcome hate with love, acceptance, and understanding. We all have the power to spread love and kindness to those experiencing hatred. We are all connected one way or another. We are one. So, I chose to incorporate #USvsHate in my slideshow by showing unification, diversity, and inclusion."
---
David, Grade 11, Studio City, CA
David shares, "at the core, my short film's intentions are to adjust the narrative and culture of football at any skill level to become a more inclusive and understanding community to prevent the furthering of the homophobic tendencies that lie deep in the roots of the sport. Perhaps if we demanded the same of high school football locker rooms as we did from every other environment, we would see a more inclusive experience for young athletes who want to play."
---
Conversation Starters
Conversation starters are #USvsHate messages that we think can spark dialogue in school communities, in addition to messages that largely inspire us. Let us know what you think of these!
7th Grade, CA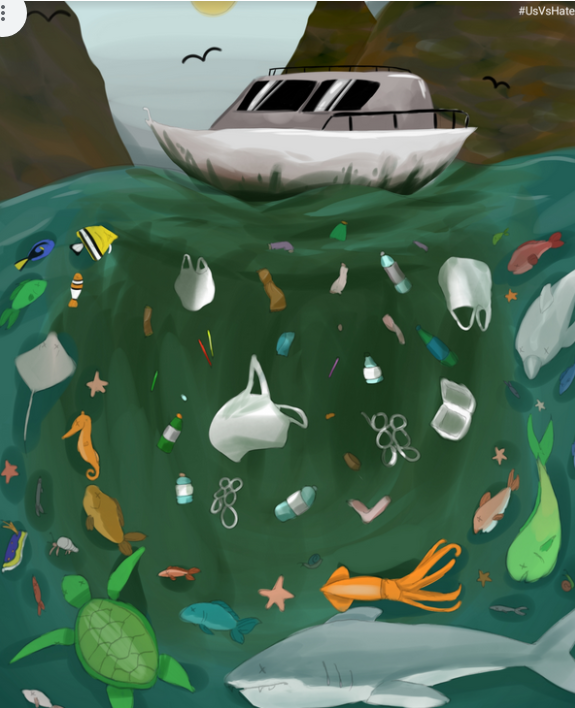 Download image here.
---
10th Grade, CA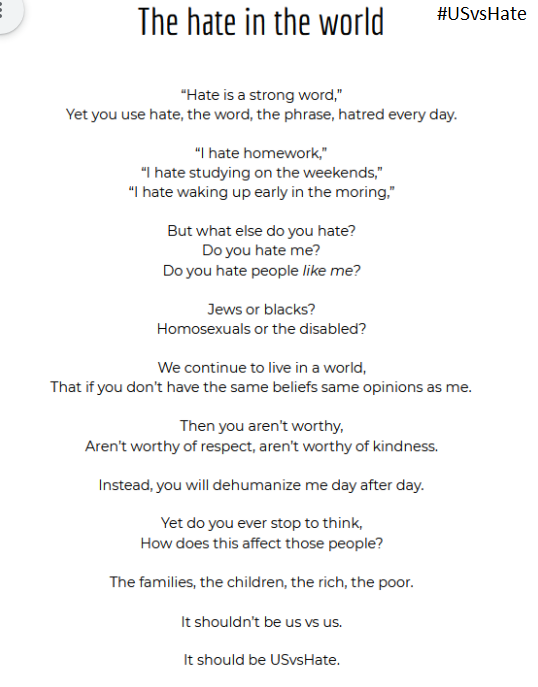 Download image here.