The following are the fabulous winners, finalists, and winning conversation starters for the Spring 2023 classic #USvsHate contest! We asked voters: Which messages do you most want amplified in schools and publicly? All of the entries below were favorites.
In #USvsHate, we define "hate" as any time people denigrate, disrespect or harm an individual or group as if their identity makes them an inferior or less valuable type of person. By amplifying "anti-hate" youth voices in schools and publicly, we seek to empower students to build schools and a society where all belong, feel included, and get supported.
Winners
Anthony and Olympia, 9th Grade, California
Anthony and Olympia write: "Over our lifetimes, we have all seen or heard the saying, 'I don't see color, I only see people.' Most think that this is a positive saying because it is stopping the person from being prejudiced, but this can have a negative effect on its victims. For our #USvsHate message we drew a classroom with the students of all different colors and race looking at the front of the class. We used glasses to emphasize that we were looking through a teacher's perspective."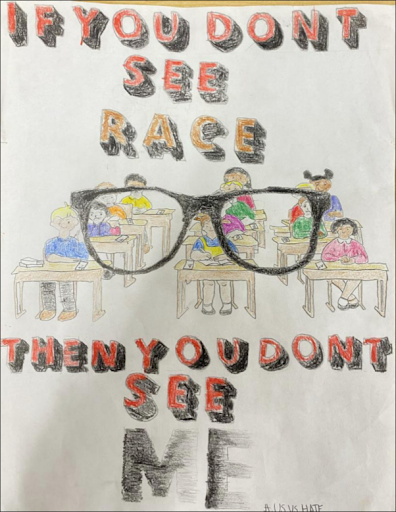 Audrey, Chloe, and Lily, 9th Grade, California
Audrey, Chloe, and Lily write: "Through several different forms of research, we discovered how prevalent ableism is in schools in general, including the lack of recognition of ableism and how ineffective schools have been in fighting ableism. Therefore, the ultimate goal of our poster is to communicate the obstacles that people affected by disabilities face and overcome in everyday life, specifically in schools. The ramps on the side leading to the school represent the potential for providing a more equitable and inclusive academic environment for ALL."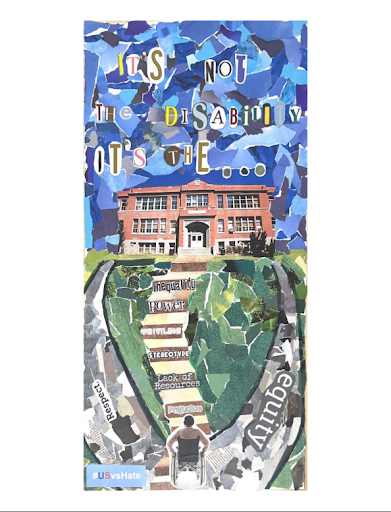 Aurora, 11th Grade, California
Aurora writes: "My intentions for my song is to allow people to not feel alone when they feel like people are against them, I have gone through the feeling of people talking behind my back, and have experienced the outcome of rumors that were spread. I want people who feel they want to give in and let those words people say about them hurt them get out of that feeling and rise above it and stay strong."
Nyema, 11th Grade, Florida
Nyema writes: "You never know what someone is going through. Be kind, stay positive, spread love."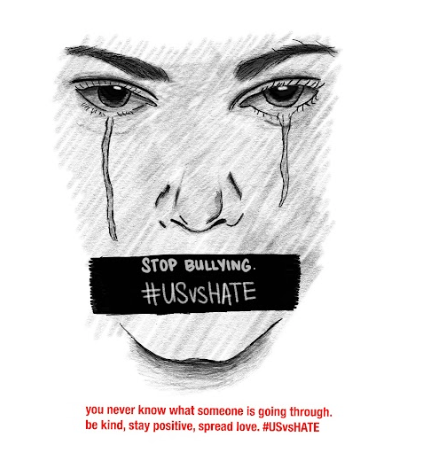 Seoyun, 9th Grade, California
Seoyun writes: "There are seven different continents on Earth, and all of these seven continents are needed to become Earth. If one continent disappears, it cannot be called Earth. The Earth will be beautiful if we accept diverse nationalities and cultures since every person is special and necessary."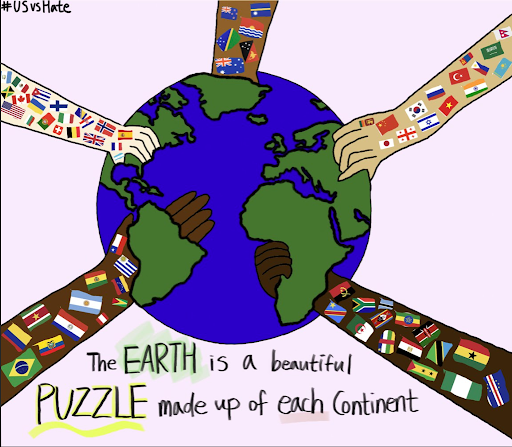 Finalists
Nyema, 11th Grade, Florida
Nyema writes: "My intention behind the message is to bring awareness to the fact that black women are stereotyped, especially black female athletes. Anything black female athletes do receive hate and criticism, while other races display the same actions, and receive support. I want to spread to black female athletes of all ages that it is okay to show passion, and to not fit themselves into any stereotype or let anyone define who they are. If I could go back in time and give advice to the younger version of myself, I would tell myself to ignore the stereotypes, and be who I am. Through this drawing, I want to inspire all generations of black female athletes to ignore the stereotype and be who you want to be."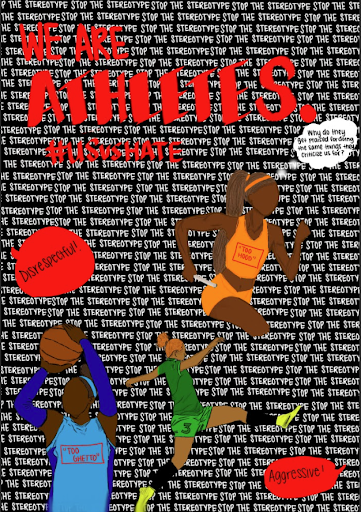 Sadie, 4th Grade, California
Sadie writes: "I want to show that no matter who you are or your "differences", you are AMAZING! We have talked in class about racism and it made a big impact on me. I want my piece to change people's minds about how EXTREMELY important diversity is."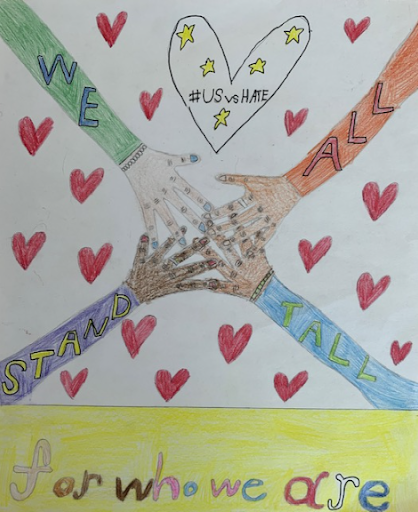 Maddie, 7th Grade, California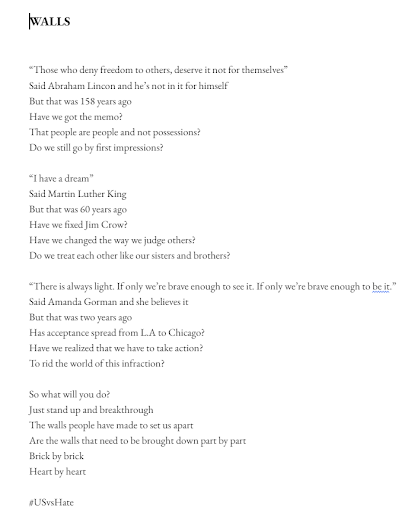 Lucas, 11th Grade, Florida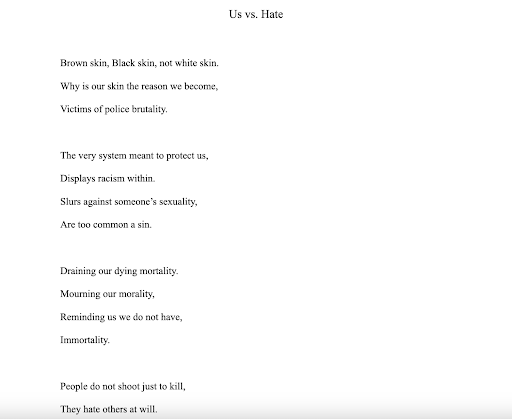 Conversation Starters
Conversation starters are #USvsHate messages that we think can spark dialogue in school communities, in addition to messages that largely inspire us. Here are our Classic Contest 2023 Conversation Starters!
Juliette, 11th Grade, Florida
What does this message make you feel? How can schools play a role in steering students away from language that encourages violence?
Juliette writes: "The message of my poster to attempt to stop victim blaming with everyday comments that people don't realize encourage the rape culture. The intentions are to make people realize that growing up in a society that uses the comments displayed in the hands encourage young people to act recklessly and inappropriately without seeing themselves as predators and blame the victim."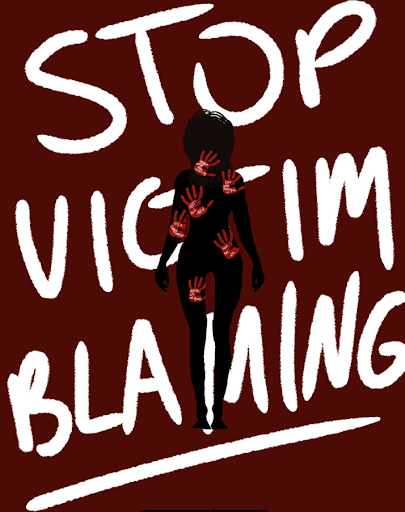 Finn and Carissa, 11th Grade, California
What human stories have you learned in school about those of us with immigrant experiences, historically and today? What learning experiences do you wish you or others had, and why?
Finn and Carissa write: "Our intentions behind this message is to spread awareness about how racist stereotypes can severely impact families. My parents are both from Mexico and immigrated to the United States and I was born here. It is really overwhelming at times to see how some people can be so callous towards others just because of their ethnicity or race, and how that malice has an effect on those groups of people. I hope that this can remind people to be kind to one another."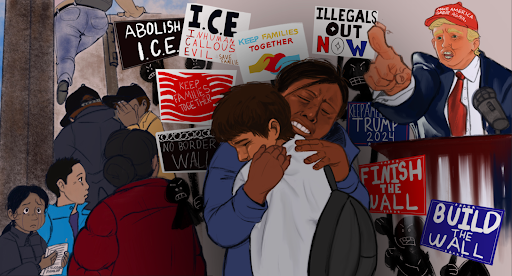 Karina, 11th Grade, California
This message-maker wants to "make a change." Are schools places where students should have the chance to discuss gun laws and other policies affecting them?
Karina writes: "My intentions making this project is to get across the message that we need to change what is happening and move forward to make our world safer. Everyone should feel safe. A main reason I chose this topic was because of my sister. My sister was at the Route 91 shooting in Las Vegas. My sister along with her friends undergone the trauma of the shooting and two of her friends were shot. I have witnessed my sister's nightmares, her trauma, and ptsd firsthand. I know how a tragedy like this can effect someone and I want to make a change."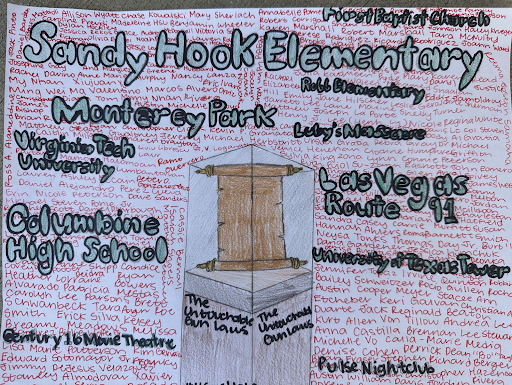 Bella, 11th Grade, Florida
This message might get you thinking about how we are all one human species, despite our beautiful diversity of physical appearances! What's one thing schools could do to help students appreciate the beautiful diversity present in their school or community?
Bella writes: "The message of my project mainly centers around diversity and beauty standards and how we view them. I compare the way we view one another to the way we view animals; if we can appreciate them for their vast beauty, why can't we appreciate one another in the same fashion? I specifically chose 2 considerably different animals to represent this idea: a shoebill stork and a red panda. Overall, I really aim to bring awareness to diversity. No one person is the same and that's what makes everyone beautiful. Individuality is key to progression."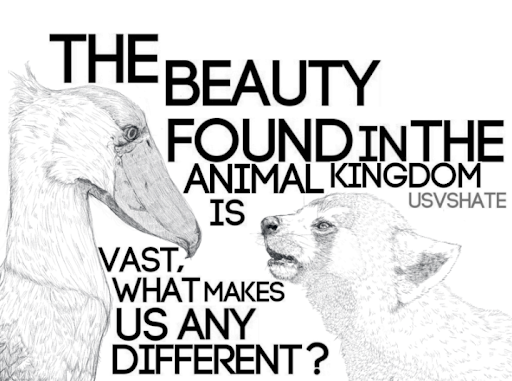 Luisana, 11th Grade, Florida
The message-maker, a high schooler, wants to "unnerve" viewers so they have to grapple with a real, painful experience. Should students be shielded from such art or literature, or can it lead to important learning?
Luisana writes: "I want people to look at it and be disturbed. Or at least, unnerved. I want answers. Why suddenly at the age of twelve I have to learn to not be human. To never go out late unless I have friends to go with me, never smile at strangers, keep my keys firmly gripped in my hands whenever I need to get in my car. I want to know why."