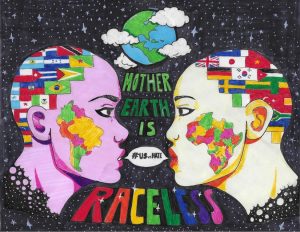 In #USvsHate, teachers teach an anti-hate lesson of choice (ideally, a short series of lessons) from a national group of partner organizations. (You don't have to use the lessons on our website to enter our national challenge. You can build anti-hate messaging into your existing curriculum.)
Then, you'll invite students to create anti-hate messages in any media for their school communities and the broader public. (See Getting Started for all instructions.)
We have organized #USvsHate lessons into two sections below. We hope that you might go beyond a single lesson to a short series of lessons, and then, longer-term learning. (Check out Teaching Tolerance's Social Justice Standards, which invite students into ongoing exploration of identity, diversity, justice and action.)
These lessons help build inclusive relationships, start to challenge stereotypes, and explore overarching issues of empathy, bias, bullying, and ally behavior. Start here if the people in your group don't know each other well.
A student-requested section, Saying No to Words That Hurt, will help give students the chance to discuss recent experiences with hate.
These lessons build a stronger foundation to explore and refuse specific forms of hate, bias, and inequality needing attention in specific communities and the nation.
Choose lessons to fit your school's needs, your curriculum, your preparation, and your student relationships. Treat this as one step on a longer learning journey equipping yourself and your students on the issues raised.
We have lots of PD resources to help you get ready, too.
Join the #Schooltalking Facebook community for ongoing support.
ABOUT OUR LESSONS
We asked a national group of participating organizations to share one or more "top" lessons designed to spark a classroom dialogue refusing hate and pursuing inclusion in our diverse society. These include Teaching Tolerance, Facing History and Ourselves, the Anti-Defamation League, the Bully Project, the Human Rights Campaign's Welcoming Schools, the American Federation of Teachers, including the AFT's "Share My Lesson," Zinn Education Project/Rethinking Schools, Teaching for Change, the National Education Association, the National Association for Multicultural Education, GLSEN, the Morningside Center for Teaching Social Responsibility, Not In Our Town/Not In Our School, and the New York Times Learning Network, as well as #Schooltalking, the first supporter of the #USvsHate project.
Learn more with our contributing organizations via ongoing resources and trainings.