We are super excited about amplifying these finalists' voices in our #LetUsLearn Special Call! Recently, the nation has seen a lot of arguing over what should be taught in U.S. schools. Since January 2021, politicians have filed over 300 bills in 45 states trying to restrict students' rights to learn in school about race, racism, diversity, gender, LGBTQ+ lives, and accurate history, with 22 laws now passed in 16 states to limit learning. 23 anti-LGBTQ bills have been introduced just in 2022 to restrict LGBTQ-related learning and support to youth, with over 30 introduced already in 2023. Since July 2021, PEN America has tracked over 4,000 book ban cases driven by politicians and inflamed local critics, often targeting books about racism, with protagonists of color, or with LGBTQ characters– affecting 182 school districts in 37 states and millions of students. To date, nearly 150 districts nationwide have introduced local measures to limit race-related learning.
We haven't heard nearly enough from youth themselves!
So, we asked youth three questions in our 2022-2023 Special Call (https://usvshate.org/2022-special-call/):
Youth will soon be in charge of making our country work for everyone. To prepare, what facts should youth learn in school about race, racism, gender, and injustice in our society, historically and today?
What sort of teaching and activities like this have you benefited from, in the past?
What can we learn and do in our schools or communities for all of us to feel welcome, included, seen, respected, and valued?
Voters then chose the messages they most wanted amplified. All the winners, finalists, and conversation starters below were favorites.
Winners
Naia, 4th Grade, California
Naia and classmates write: "We responded as a class to the special call #LetUsLearn! We believe that kids should be able to read what they want to read. We want to learn about history, even the parts that are sad. LGBTQIA+ themes and characters that aren't white are a way for all kids to see themselves in books."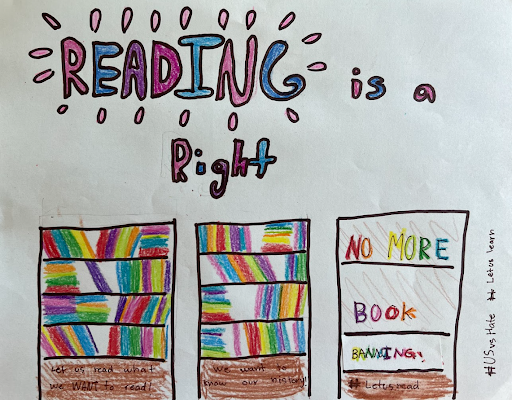 Katt, 5th Grade, California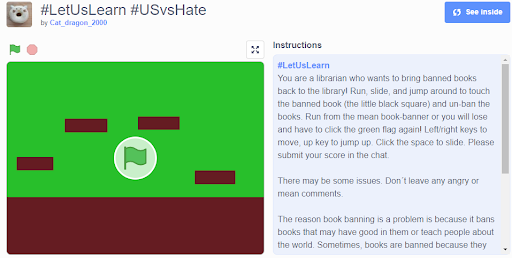 Play the coded game here.
Soha, 9th Grade, California
Soha writes: "My intention is always peace and understanding. I want a world where we understand one another, that prior harms can be resolved through moving forward toward peace. I hope that schools can teach history from various lenses, understanding that truth in portrayal will help students learn about our collective past and move forward together with that knowledge to embrace peace rather than repeating our past mistakes."
Leslie, 12th Grade, California
Leslie writes: "As a Queer individual (and late Zapotec descendant), Muxes resonate with a personal intersectionality that is often seen as contradictory in modern Mexico: Mexican and Queer, and how one cannot be both. The existence and reverend respect that Muxes have had since the beginning of time is proof of the long history of gender out of the binary. I wish I had known about Muxes when I was in middle school, as proof that Queerness has been in our culture even before being colonized. Learning about Muxes is inspiring to non-binary or gender non-conforming students who doubt their place in this world, as Muxes give us a glimpse to a society that celebrates trans individuals."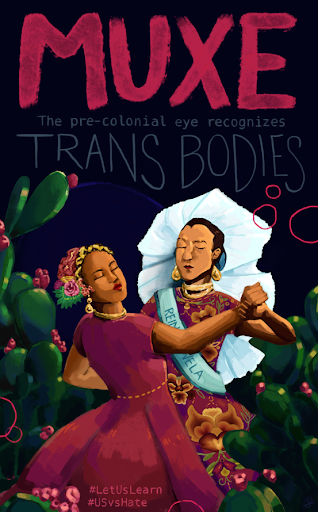 Finalists
Fallon, 11th Grade, Texas
Fallon writes: "I wrote this speech to criticize the idea that books featuring non-white and LGBTQ characters were inherently inappropriate. As an LGBTQ student in a school district that banned books, I felt called to speak out against actions like this taken in my community. I think students in all schools should learn about LGBTQ history and to accept all people."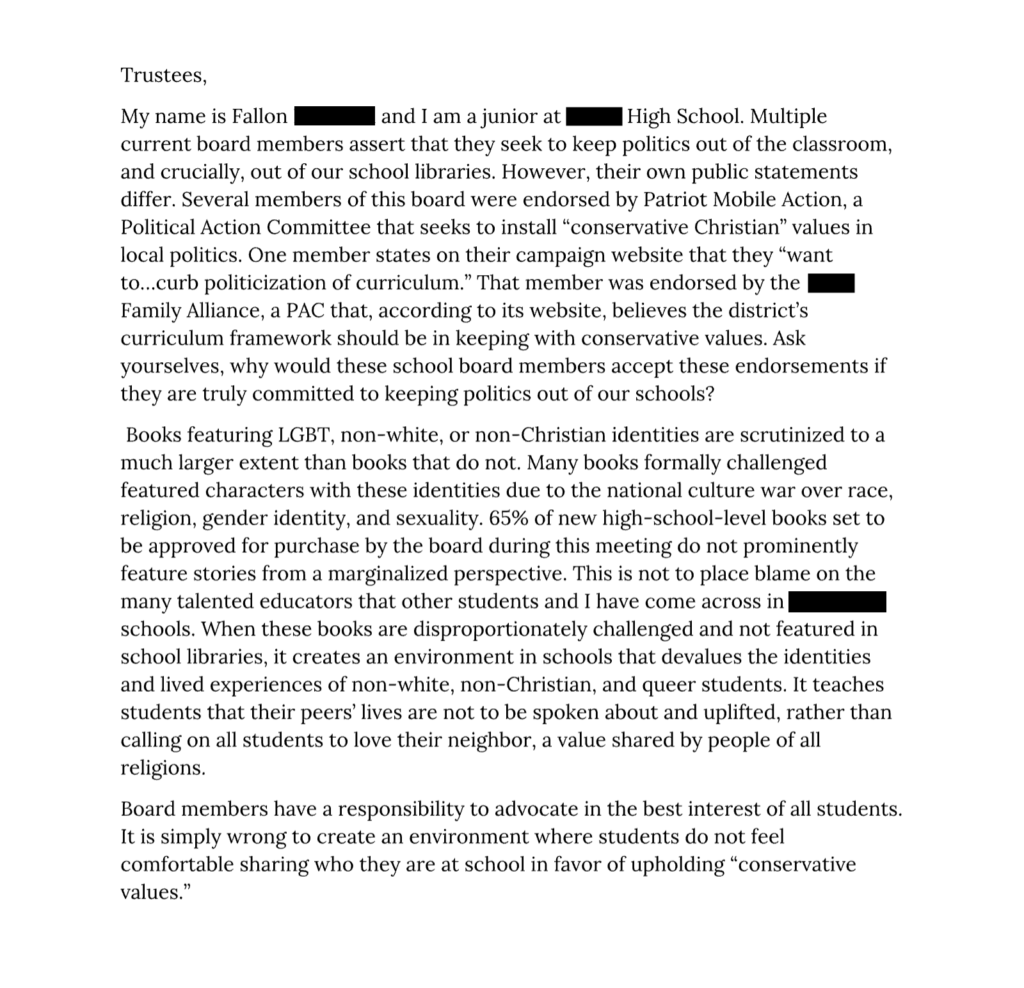 Sara, 11th Grade, Missouri
Sara writes: "My intention behind this message is to inspire young black girls to be proud of their identity and to find strength in their community, despite the discrimination and stereotyping they may face. As a black woman, I have experienced firsthand the challenges of implicit bias at the hands of students and teachers alike, and as my younger sister grows up, I see her face many of the same challenges that I, and black girls across the world, are constantly subject to. I believe that students should learn about the importance of empathy and ally-ship in promoting inclusion and respect, explore strategies for listening to and understanding the experiences of others, and learn how to take action to support marginalized communities and challenge injustice. By incorporating these topics into the curriculum and school culture, we can create a more welcoming, inclusive, and respectful learning environment for all students."
Chloe, 10th Grade, Connecticut
Chloe writes: "I believe that the way people treat others is rooted in how they feel others treat them. The goal of my speech was to encourage schools to foster a community of support, inclusion, and equality to their students so that the youth of our country can go on to live their lives acting with kindness and respect to all."
Special Call #LetUsLearn Conversation Starters
Conversation starters are #USvsHate messages that we think can spark dialogue in school communities, in addition to messages that largely inspire us. Here are our Special Call 2023 #LetUsLearn Conversation Starters!
Hannah, 6th Grade, Washington
This student responded to our #LetUsLearn invitation to read a diverse book, then make a public message everyone should hear. What should students learn in schools today, about racial inequality past and present?
Hannah writes: "The title of my piece is "The Notebook of Equality." What inspired me was long time ago, black people couldn't go to school with the white kids and couldn't learn the same things. So I wanted to create a notebook because you know you use a notebook in school, and put different things like stickers and decorate the notebook with different message. The message of this thing is that no matter what race, color, or gender, we all can be equal. This connects to Roll of Thunder Hear My Cry because that time, the schools were segregated and they were not treated equally."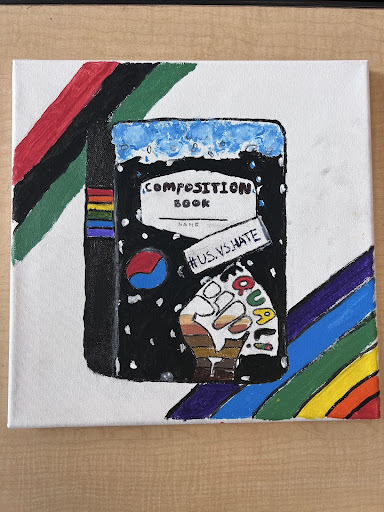 Reeve and Scarlett, 4th Grade, California
This message says "Let us learn, don't be scared!" and says all kids should be able to see themselves in the books offered in school. Why do you think some adults are "scared" kids might learn in school? What should schools do about their fear?
Reeve and Scarlett write: "We believe that kids should be able to read what they want to read. We want to learn about history, even the parts that are sad. LGBTQIA+ themes and characters that aren't white are a way for all kids to see themselves in books."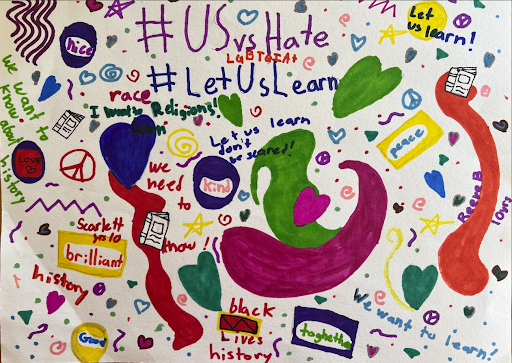 Elise, 8th Grade, Massachusetts
What's one book YOU want to read in school, and why? (If some adults say they don't want you to read that book, what should schools do about this?)
Backstory from Elise: Elise is a white girl and chose these books herself using the internet to see what books existed by authors of color and marginalized communities at large, and which she'd find truly interesting and deep. Like tons of eighth graders, she doesn't read all the time yet – she seeks books that will inspire her to dive into them on a deeper level.
Vail and Milo, 9th Grade, California
This message attempts to draw a parallel between a massive historical tragedy fueled by hate, the Holocaust, and one hate-inspired shooting today. What is one aspect of history you think students should learn more about to better understand hate in 2023?
Vail and Milo write: "The topic of Anti Semitism is something that really relates to us and people in our communities due to the fact that one of us is Jewish. As Anti Semitism has become more rampant after comments via Kanye West and violence against those who are Jewish is on the rise. Our message communicates aims to talk about the never ending violence and change we have not yet accomplished. Through our message we hope to bring awareness and push ourselves to a safer and greater tomorrow. The visual delivery in our message tries to communicate the contrast and similarity of how our world has changed and evolved, but not to its fullest extent. We hope that through the amazing efforts of USvsHate that these positive change messages discussing topics that people may be afraid to talk about will be shown."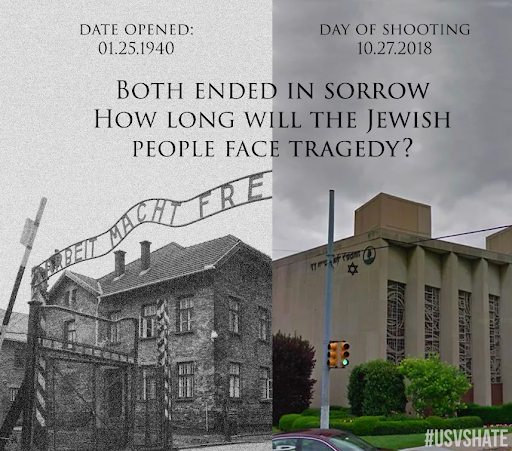 Diversity, Equity, and Inclusion high school committee, New Jersey
This diversity, equity, and inclusion committee in a high school brought a famous poem alive visually to get us thinking and feeling about our lives today. What have you read or watched lately that really made you feel something important, that you think others should access in school?
Amani, 9th Grade, California
This message shares painful experiences of being told you or your family somehow don't belong in your school. Do you ever feel this way in school? What's one thing schools can do to make everyone feel like they are valued for who they are?
Amani writes: "I hope my message brings attention to the topic of exclusion. Many times, students are bullied because they are different. I chose to write about an uncomfortable topic to bring more attention to it. I also wanted to show how no matter who you are, you can persevere through challenges and become successful."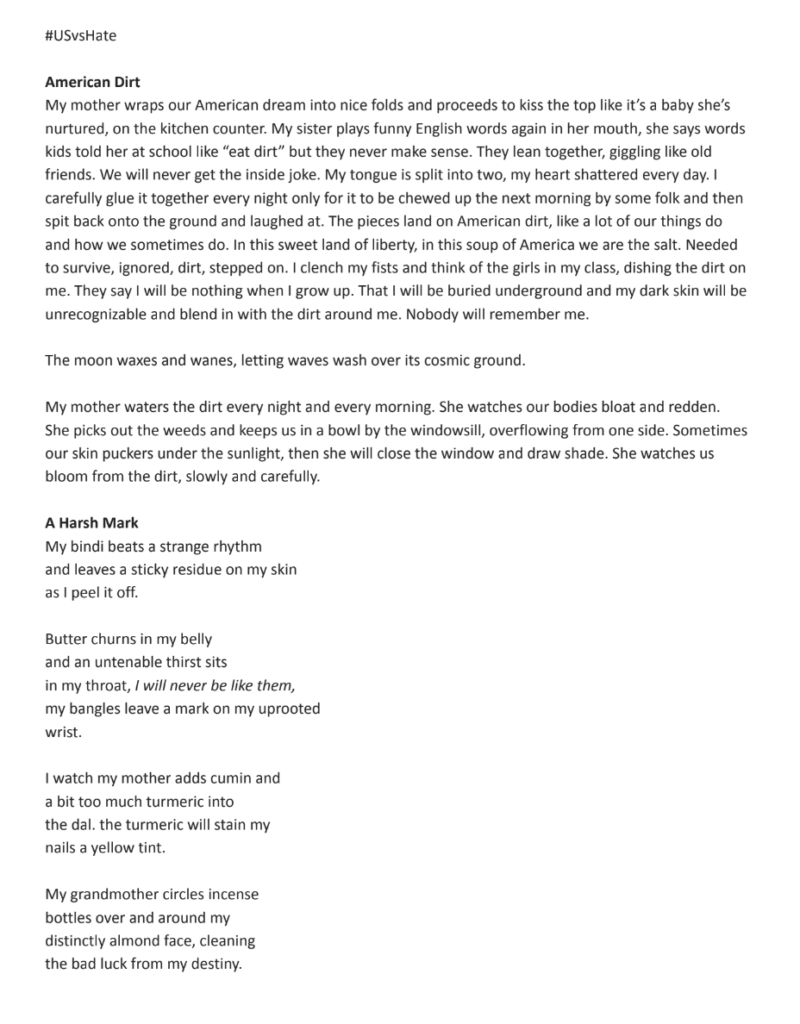 12th Grade, Missouri
This message says "I love the country, but it treats me harshly." As we learn in schools, can we simultaneously love our shared, diverse nation and critique aspects that need improvement? Share your take on one time you felt both.
The student writes: "I'm an immigrant child in an immigrant family, but that didn't stop me from thriving on a foreign land. I struggle to fit in and finding my peace in the country that I know little to nothing about. Even though I struggles to live in my own skin due to being judge for my skin color, my ethnicity, for the fact that I wasn't born in the United States. I still wouldn't change a thing if I could go back in time, this land change me for the better and I appreciate that."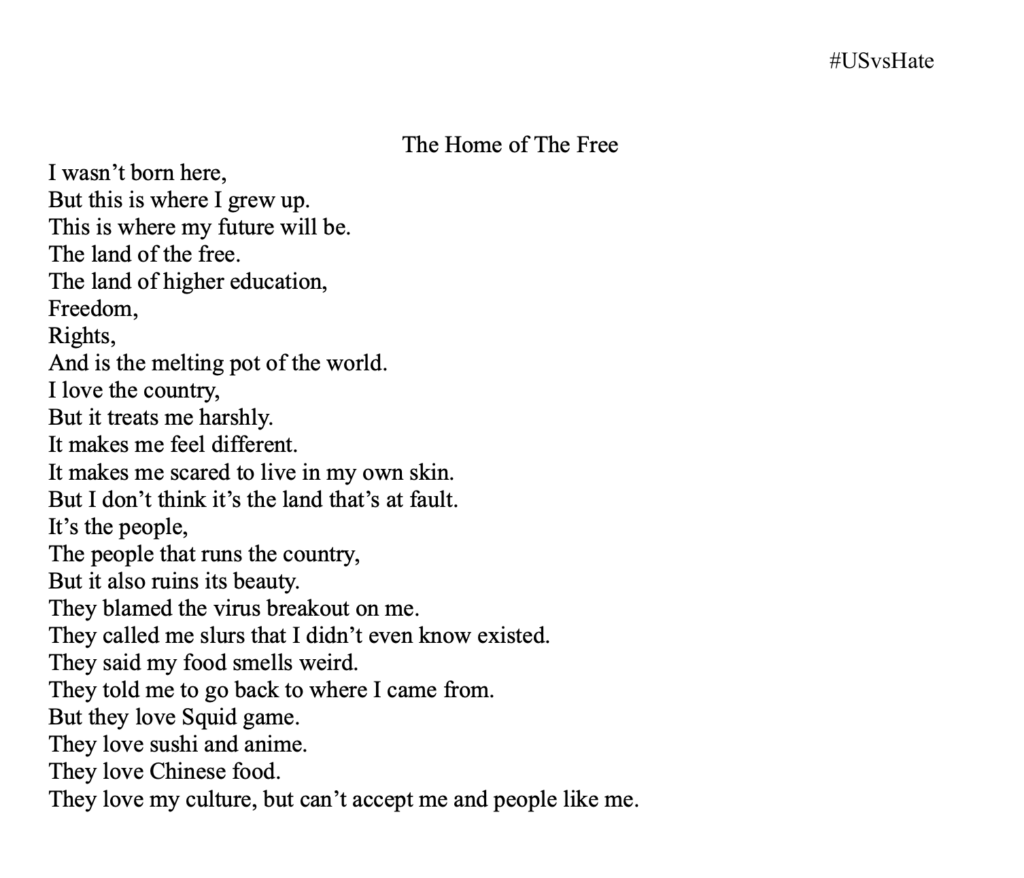 Daniel, 9th Grade, California
This anti-hate message longs for unity and wishes others acted like "diversity is what makes us stronger." Can you think of one school activity that might help people feel unity and appreciate diversity, at the same time?