This year, the nation has seen a lot of arguing over what should be taught in U.S. schools. We haven't heard nearly enough from youth themselves! So, for our April 8 #USvsHate Challenge deadline, we are issuing a Special Additional Call to Action.
We invite youth of any age to gather #USvsHate youth voice in your school in a short #USvsHate video. You can make the video with your peers or you can create a short selfie video. 
The video should address the following questions: What can we learn and do in our schools or communities for all of us to feel welcome, included, seen, respected, and valued? What sort of teaching and activities like this have you benefited from, in the past? 
Do not use full names of anyone featured, or the name of your school.
Submit your video to usvshate.org/submit, by April 8. 
We are still hosting our traditional #USvsHate challenge, so feel free to answer these questions in any other media (poster, sticker, song, etc.) as well!
---
Share all compelling #USvsHate messages locally to shape school climate. This is a crucial part of #USvsHate. Students and teachers are sharing messages locally on school walls, bulletin boards, websites, and T-shirts, via gallery walks, and in assemblies to highlight live speeches or presentations. Document your sharing, using the #USvsHate hashtag!
For a reminder of what we consider an "anti-hate" message, see our guide.
Submit your best to our national challenge via this form.
You can submit 5 entries max per class, to each challenge!

Our 2021-22 #USvsHate challenge deadlines are December 17, 2021 and April 8, 2022.
As you prepare to submit, remember:
Educators: consider inviting students to help you select entries. One teacher set up a gallery walk allowing students to see and vote on one another's work.
PLAN AHEAD: For students under 18, parent/guardian permission is required for any entry submitted with a student's name on it. Here's a permission slip educators can use to get that parent permission, as needed. See Kim's story in #USvsHate Teacher Stories for how one educator handled permissions via email.
You will verify that you have this permission when you upload your students' entries. If permissions are unclear, we will share anonymously.
(Students under 18 who submit for themselves must prepare to get parent/guardian permission if they win.)
Any message submitted must be ready to share publicly as is.
To be considered for a "Winning" #USvsHate message, the message also must do the following:
Include the hashtag #USvsHate. (If you don't put it on there, we'll add it for you.)
Be both creative and original

. (Use original words and other material. Don't plagiarize. A design could make a common slogan original, but our preference is new words and ideas. Do not use clips from music, videos, or other media that is copyrighted by others. If you use others' publicly available material, credit the creator whenever possible.)

Successfully communicate the #USvsHate message of inclusion and justice for all, to a group of peers.
No message submitted should be harmful or hateful to others.
How to upload using our form:
Those submitting images can a) scan a paper submission or b) create the image digitally. You can submit messages like Op Eds, poems, or letters to the editor in Word. Upload documentation of art installations or performances. If you want to submit a paper submission and don't have access to a scanner, you can upload a photograph of a piece of paper.
If you win, we may ask you to mail us the original for reproduction.
Again, any message submitted must be ready to share publicly as is.
Winning entries will be amplified nationally via our website and social media. A subset will be made into free posters and stickers for participating classrooms. Check out our latest winning messages!
Finally, take the most important next step: ask students and colleagues what they want to learn and do NEXT in your school community. Is there a next topic on the website that people want to explore? Could a favorite #USvsHate activity be taught every year? Who could join #USvsHate in a next round? Go for it! Return to our Getting Started tab for questions to ask students and adults, to figure out what's next.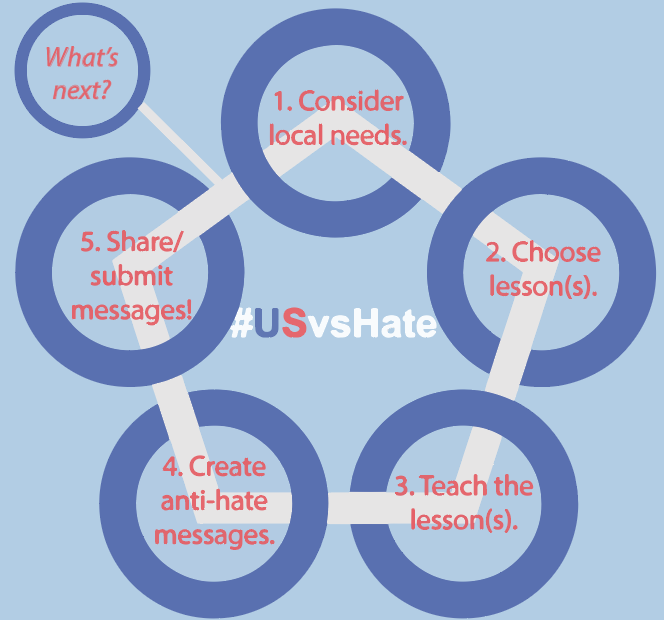 Questions? Contact micapollock@ucsd.edu.