Grade 4, Poway, CA
Teacher Artemisa writes, "This is our 4th year participating in #USvsHate, so we began our work by revisiting our previous entries. We then started a deep dive into stereotypes and why they're harmful, beginning with ones we've heard. Our #USvsHate messages during this round all revolve around breaking down stereotypes and appreciating diversity. The class adds: We want to tell the world that disabilities don't disable dreams."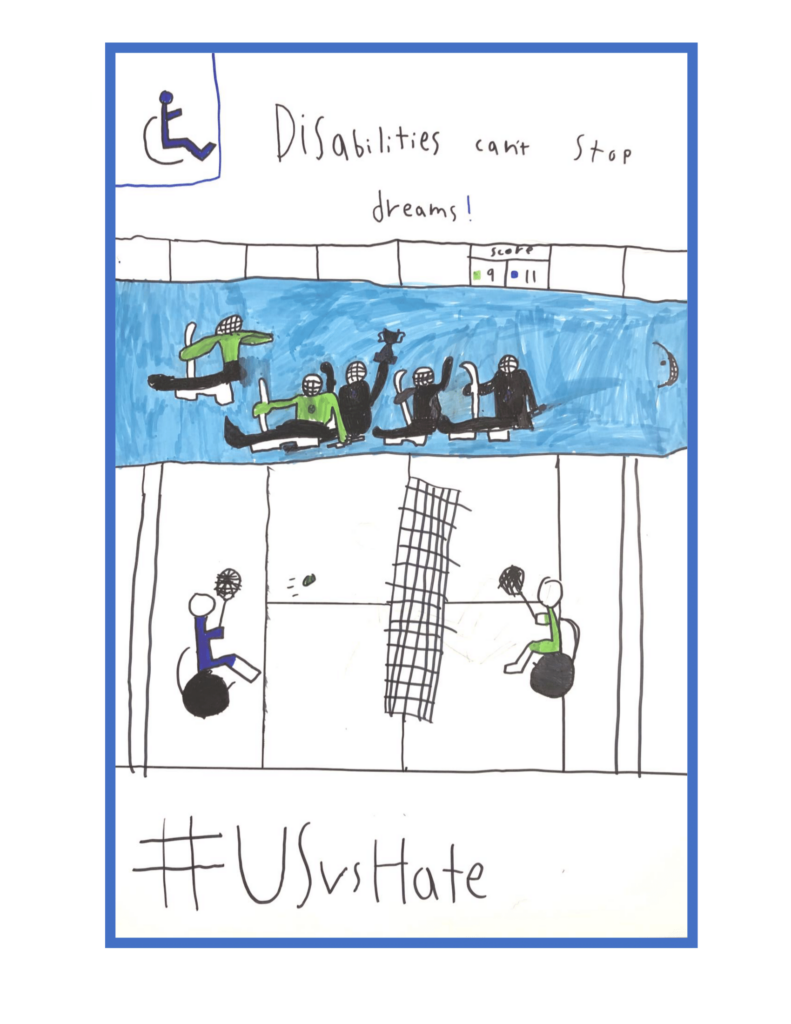 Download image here.
---
Grade 5, Inclusivity Club, Martinez, CA
Matthew: I don't get a lot of support from my family for who I am. I know lots of people around the world are in a similar situation. I want to do this to show they are not alone.
Anonymous: Some people are rude and say mean things about people and they aren't supportive of anyone different. I want to be different than them. I want people to know that who they are now matters.
Anonymous: I am here because Matthew asked me to and I want to be an ally.
Lindsay: I feel like LGBTQIA+ People don't get a lot of support. As a member of this community I'm not getting enough support. I wanted to do this to show that no matter what gender or sexuality you are, you deserve to be treated equally–we all do.
Alana: A lot of people around here and the world are not getting enough support and respect. I want them to know they have support and know they can be who they are and who they want to be.Anonymous: My parents don't understand how important these issues are. They say I'm too young for them but I'm not. I need to start figuring it out now so I know who I am and what I support when I'm older.
---
Grade 6, Covina, CA
Teacher Lynda writes, "I assigned this project as a FLIPGRID. It was titled, 'USvsHATE – Lift Up Your Voice!' PURPOSE: To share your voice with others and start building a place where all people are supported and valued. Scholars worked on the project both in class and at home if needed.They were so proud to share their creations as a 'mixtape' entry for the contest. Each scholar shared the 'Why' behind their creation on their FlipGrid."
---
Ivonne, Grade 6, Lakewood, WA
Student Ivonne says: "My intention behind the message of this drawing is just to be able to make people realize that everybody deserves to be treated nicely! So, I wanted to make something that could represent what was happening in 2020, and like the title of the drawing says, 'All we want is equality. I realize now just how judging people can be towards others, especially when it comes to POC's or the LGBTQ+ community. And it just confuses me how someone can dislike another person just because of their skin color, or sexuality/gender identity. And in the years, I did experience some things like that which led me to want to do something about it, whether it would make little impact on people or not. This led to the inspiration of 'All we want is Equality.' This drawing is the interpretation that if we just help each other out on making a change, if we work together, then at one point, we will be able to achieve that goal."
Teacher Miriam says, "For years I've taught the novel Roll of Thunder Hear My Cry, every year I find more meaning in it. This year, students were more inspired than ever because they saw their school mate Noel spread this message of tolerance. After Noel was featured on the #USvsHate website he has taken on a leadership role at our school. Our superintendent even wrote him a letter and had his art put on a canvas for him to hang at home. To create some background knowledge for the book I show The Children's March by The Mighty Times and I use many of the lessons created by Learning for Justice. This documentary always captures my students' attention because most people do not know that children were very involved in the Civil Rights Movement. After creating some context, we then listen to the audio book and follow along in the the novel. We answer text dependent questions, we do Socratic seminars and share our experiences and perspectives. Students often have deep questions like was it morally right for the children in the book to get revenge on a racist bus driver? Or how did the KKK start? This is always engaging for students and myself as well. I'm always learning! As a "mixed race" child I've always felt like I didn't belong to any group and I never met anyone else who was mixed with Korean and Native American. I became passionate about racism and making change, even as a young child. Being an educator gives me the opportunity to fight hatred and change lives for the better every day. #Us vs. Hate has been a powerful tool for me and my students to create awareness of the challenges students face and make BIG changes in our community. With this one project we have seen improvements in awareness and recognition of the LGBTQ community with in our school and our school district or other areas where we need equity."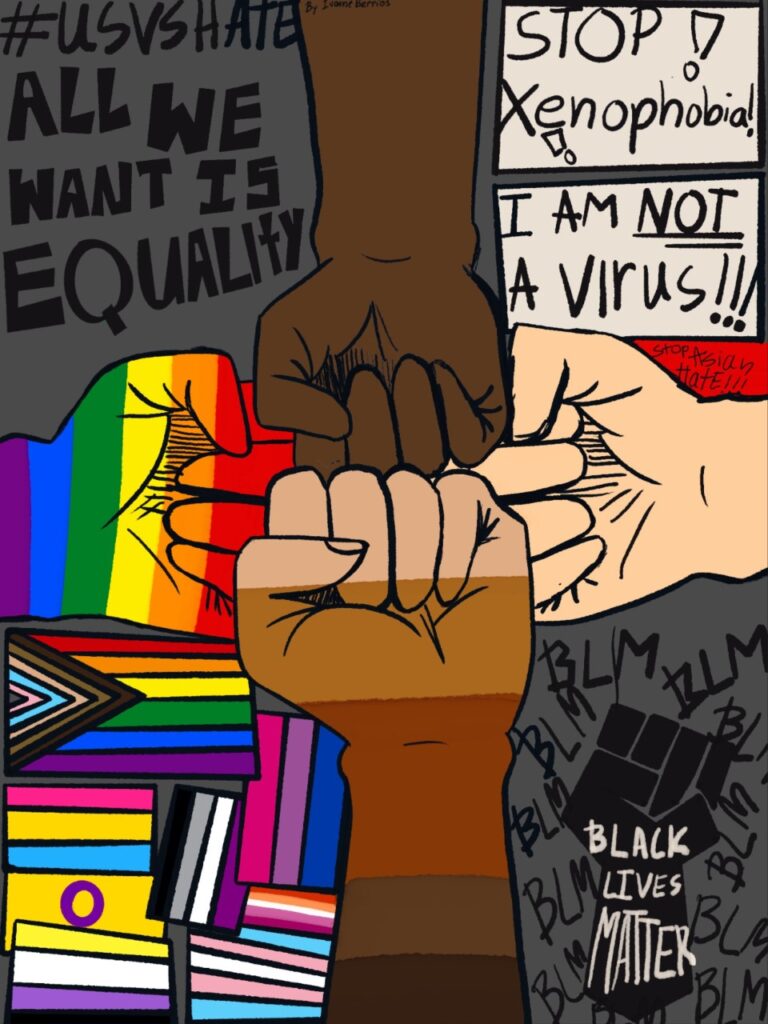 Download image here.
---
Lily, Grade 8, Shelburne, VT
Teacher Rebekah says, "Our #USvsHATE messages came from students in our school-wide Unbound anti-bias class. The curriculum is integrated with the arts and hands-on activities in order to meet the student's deep sense of feeling and developing thinking capacities. Unbound teaches students to encounter and learn about the world through active partnership in the community, feel empowered to identify and disrupt injustice by making positive change, understand how arts are deeply interwoven with social change, and create an activist 'toolbox' in preparation for their future."
Lily writes, "We cannot simply wait around for things to move forward but must unite to create a stronger future with those around us who also seek change. This is the inspiration for 'Time Will Bring the Future, Unity Will Bring Us Forward'. Unity will not be the state in which we are all focused on one idea, but in which we are able to express ourselves freely in the light of justice."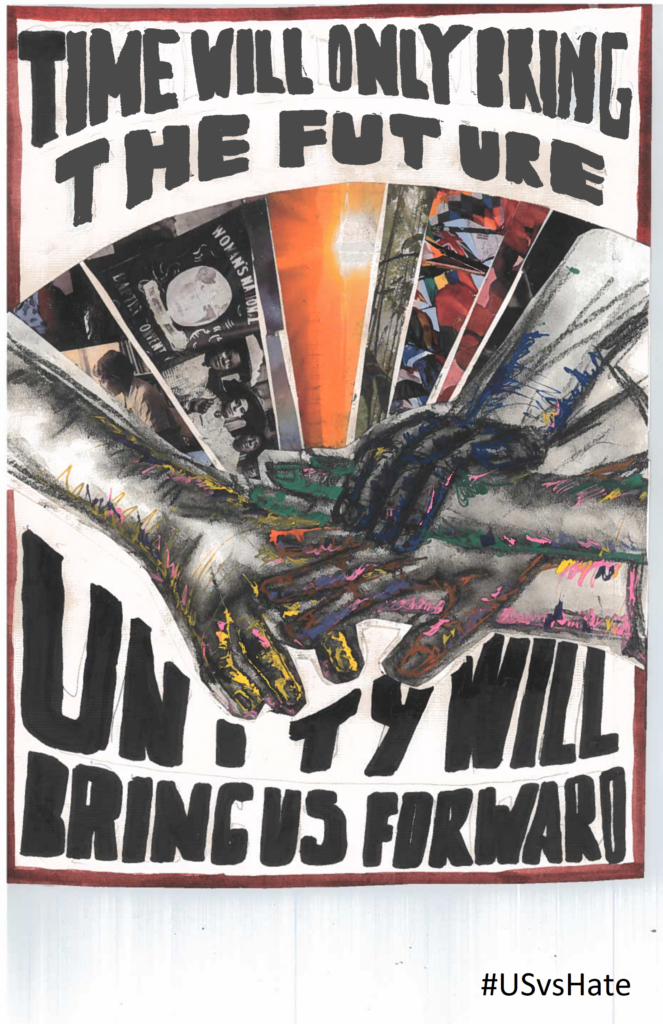 Download image here.
---
Sophia, Grade 8, Fort Lee, NJ
Sophia writes, "When I was first assigned this project, I was happy because I was looking forward to spreading love about everyone. Drawing this made me think of my friends and supporting them. Everyone has a lot to learn about each other, and I just want people to know that everyone should be happy for who they are."
Teacher Nina says, "Students entered a discussion about similarities and differences. What makes people unique? What makes them the same? How can we send a message to others that "labels" don't matter and show that everyone has value? Students created a graphic image to showcase the #USvsHate message and they are displayed throughout the school."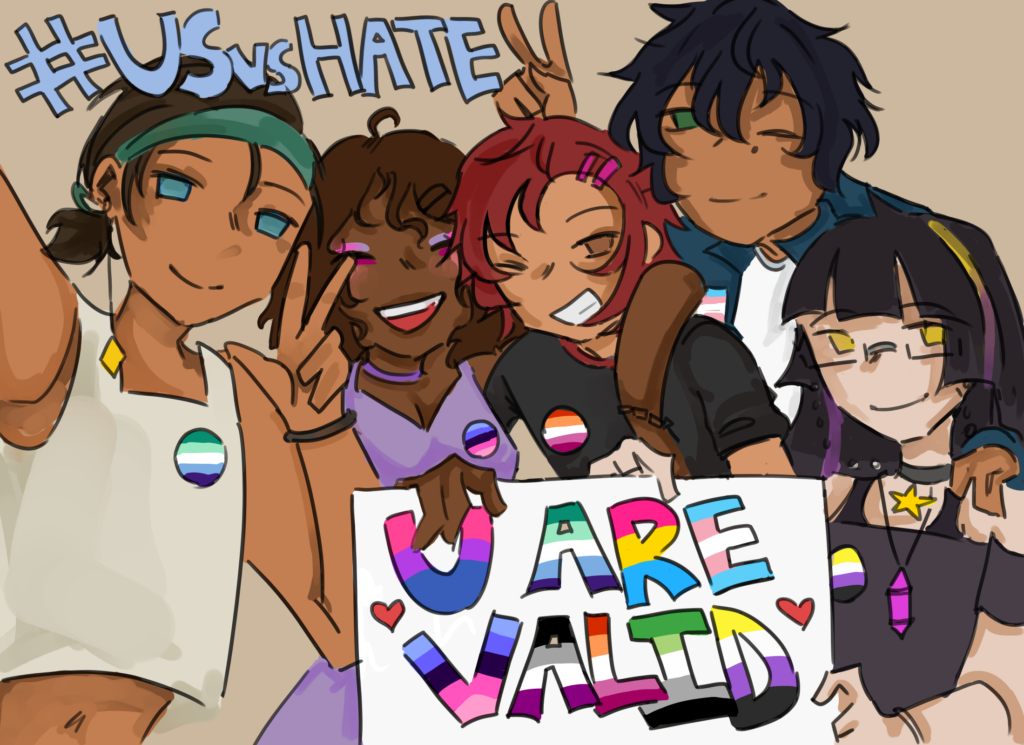 Download image here.
---
Jax, Grade 9, Vancouver, WA
Jax writes, "The media heavily focuses on trans violence and horror stories. While, of course, there are strong downsides to being trans, the joy that comes with being who you truly are is never discussed. As a trans activist via social media, I see trans suicide rates on my timeline all the time. This is important for cisgender people to see to understand the risks of being trans, and it is also incredibly difficult to see so frequently as a trans individual. I wanted to highlight a more uplifting message: trans people are people, too, and we can be happy. We *deserve* to be happy. The joy I have felt as a result of my medical transition and as a result of finding my chosen LGBTQ+ family is stronger than any other joy I have ever felt."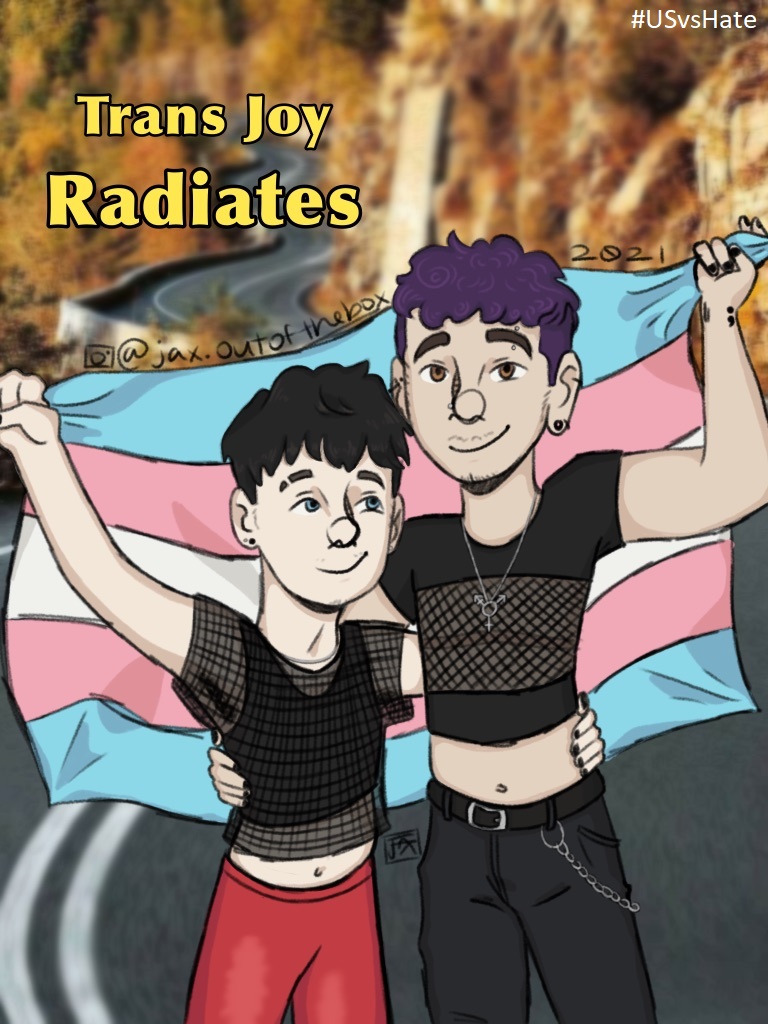 Download image here.
---
Thuong, Grade 9, San Diego, CA
Thuong shares, "The goal of this message was to encourage women to fight for the belief that women and men should have equal rights. Everyone should have equal access to education and work, as well as gender equality in marriage. Women's rights, like other rights, are human rights, but they should be held to the same standard since they are important to recognize."
Thuong's teacher, Corri-Anne, explains, "I teach an introduction to computer science class for freshmen. Students have been learning how computer science is used in video games but we spoke about how computer science can also be used to portray important messages. I have always loved the USvsHate campaign and was trying to figure out a way to incorporate its message into my computer science class. As a class we brainstormed issues of injustice and hate that high school students experience. Students were then tasked with designing an animation that they could code that would spotlight a issue that they have had personal experience with or felt passionate about. I was completely blown away and very excited about the messages and animations that my students were able to communicate with only a couple months of coding experience."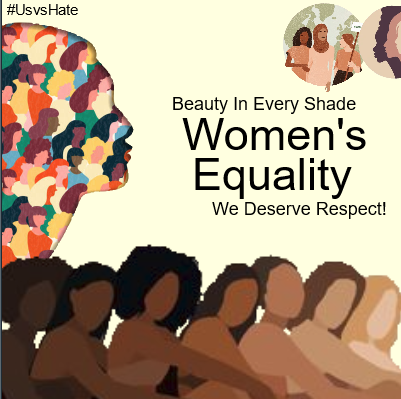 ---
Andrew, Grade 11, Studio City
Andrew explains, "as a Jewish American, I have witnessed an unacceptable amount of antisemitism in my life that has continued for far too long. It has both directly and indirectly affected me and my family, as well as each individual of the Jewish community. Thanks to our English class my classmates and I were allowed to highlight an ongoing form of hate within America, and I knew this project would allow me to speak out against something that has deeply troubled me. For my #USvsHate project, I decided to recite an original and heartfelt poem via video, where I call out antisemitic violence in its various forms, common antisemitic slurs, and widely used epithets and stereotypes, many with origins in Nazism still used today. I also detail some of my personal experiences where I have witnessed antisemitic acts against me and my family that still leave open and emotional wounds. To do my best work, I decided to write the poem spontaneously, letting my emotions pour out from me verse-after-verse as I wrote and as I recited the poem, and share further research and facts about antisemitic hate crimes and stereotypes via this written piece and poem."
Andrew's teacher, Carlos, also shares, "this was my second year implementing #USvsHate and for the second year in a row, my students got so much out of the experience. Our #USvsHate unit incorporated a number of sources such as the Anti-Defamation League (ADL) and facinghistory.org to create lessons surrounding anti-hate. The #USvsHate project allowed us to engage in deeper, more meaningful conversations that not only enhanced student learning but also allowed students to take a more active role in creating a more inclusive society."
---
Amehja, Grade 12, Philadelphia, PA
Amehja shares, "I created this poem with the hope that I could turn these ugly experiences into something beautiful that not only I but also others can use to learn from. Of course, the events in the poem are quite tragic, I believe the poem is a beautiful one that ultimately celebrates truth and self-acceptance regardless of the hate or judgment from others. I remember feeling a sense of powerlessness at the time of the events, wishing there was something I could do to have my voice heard and change what had happened. This was before I really discovered poetry, and now I hope to use the poem to empower others and allow people that may have had similar experiences to reflect on themselves and their community."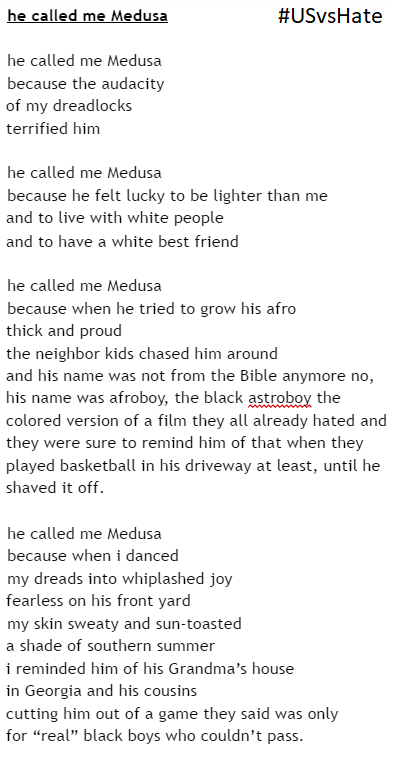 See more Winter 2021 finalists here!