#USvsHate launches conversations. We want those conversations to go well and support learning. See also our Tools for Productive Anti-Hate Dialogue.
#USvsHate Dialogue Suggestions
These suggestions combine some ideas from Teaching Tolerance's Speak Up at School, the books Everyday Antiracism and Schooltalk, and more.
Remember that your overall task is to support the safety and well-being of the students in your room, along with their learning. For suggestions on setting norms for any dialogue—and on preparing to support specific populations who might feel vulnerable–see #USvsHate's Tools for Productive Anti-Hate Dialogue.
Start with yourself. Check out our Definitions and Concepts page to increase your own preparation for given topics. It's always helpful to work with partners who can help you provide support as any conversation proceeds.
Be a learner. Our quest is to learn about real lives and our real society. There will be questions you won't be able to answer on the spot. Just commit publicly to learning. (Your answer can always be, "Let me learn more about that," or "Let's learn more about that together."
Practice your growth mindset. Ask yourself, "what else can I learn about and improve on?" This "equity line" helps us critically question and improve our work to support students as individuals and members of communities.
Invite sharing, but don't force it. Remember that some students will feel particularly vulnerable in conversations about targeted identities. Never force sharing.  
Don't "spotlight." Let people speak as group members if they want to, but never pressure someone to represent a group. Everyone is a complex individual with membership in multiple communities.
If students choose to share stories about themselves, value them, even if stories differ from your own.  
Stories stay. Lessons leave. Respect privacy and build trust. Make sure people feel like they can share without feeling like they will be exposed to others outside of the classroom.
Ask people to speak their own truths and experiences but take care with making claims about communities or experiences other than their own.  It's an educator's job to request that all claims be based on evidence. You can always ask a speaker to rethink a statement about "other people," requesting more factual evidence. "Interesting, Joe, where have you learned that? Let's keep learning and make sure our claims are based on evidence." "I can speak from my own experience, but it doesn't mean others have experienced the same thing!"
Add facts. ("People who have spent a long time learning on this issue want us to know that …..")
Don't let anyone disparage any "type of person" without responding. See this piece and Learning for Justice's Speak Up at School for some more sentence starters. Consider some basic responses you can practice and have ready:

Interrupt. Speak up against every biased remark. ("I don't like words like that." "That phrase is hurtful." "We don't use slurs in this school." "We don't want to say that here, because such language is harmful to others." "Our school community is about respecting all." Point out that the comment hurts, regardless of the speaker's intentions. ("That language hurts others, even if you didn't mean to. Let's make sure everyone is respected.")

Question. Ask questions in response to hateful remarks, to find out why the speaker made the offensive comment and how you can best address the situation. ("Why did you make a statement like that? What do you mean?")
Educate. Explain why a term or phrase is offensive. Encourage the person to choose a different expression. ("Do you know the history of that word?")
Echo. If someone else speaks up against hate, thank her and reiterate her anti-bias message. ("Thanks for speaking up, Allison. I agree that word is offensive, and we shouldn't use it.")
Even a derogatory remark said with a laugh requires a response: "Those words hurt people." "Your comment has the effect of X."
Here are some more responses we can have ready if someone says something hurtful or under-informed:
Try challenging the script (the common but inaccurate or cruel thing said), more than the speaker. ("In our society we sometimes hear people repeat that claim. But as we learn more about this issue, we realize that. . .")
Ask the speaker to act like a learner. ("We all have a lot to learn on this. Let's pursue a more accurate understanding of this issue by learning more about xx.")
Commit on the spot to learning more, yourself. ("I want to go learn more about this issue and come back to class with more understanding.")
Follow up later if we think someone was hurt by something said.
Respond to stereotypical claims by requesting deeper learning. We can question nouns/the labels we give people ("I think it's inaccurate to say Group x is. . ."), and verbs ("I think it's inaccurate to say that Group X always does . ."), and ask people to learn more about real human beings. See Schooltalk for many more suggestions.
Flag issues for further future learning, through local dialogues; readings or films; field trips to community settings; visits from community organizations; and learning experiences with all the organizations contributing lessons. Each organization offers webinars, in-person professional development trainings, tools for developing curriculum and programs, and listservs for sharing new resources.
Remember that the work is ongoing. A framework to keep in mind is Learning for Justice's Social Justice Standards, which present four "domains" of anti-bias work to address in all classrooms (identity, diversity, justice, and action). While we're working on one, we can always admit we have more work to do on the others.
Stay connected to colleagues as you learn! #USvsHate teachers say they really value being part of a community of people tackling these issues together. We've included Teacher Stories on the ongoing journey of trying #USvsHate lessons. Join the #Schooltalking Facebook community to share more about how your lessons and dialogues are going.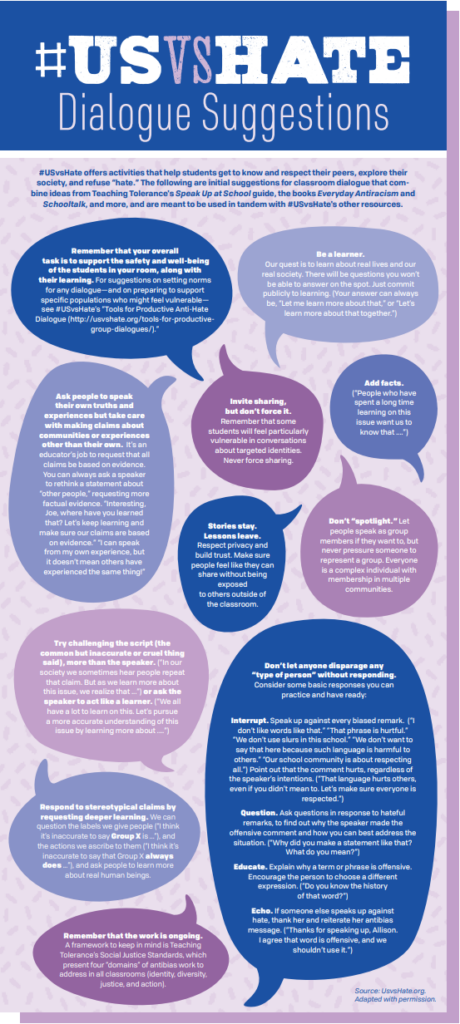 Download image here.
Check out our #USvsHate Anti-Hate Principles and sample #USvsHate dialogue agreements.
---
#USvsHate Anti-Hate Principles
We reject false ideas about "inferior" and "superior" people. Every person and each community is equally valuable and deserving of respect. We can be proud of whoever we are without putting anyone else down! (Identity)
We refuse misinformation about other people's lives. Instead, we build relationship and start to more accurately describe people's life experiences as individuals and as members of communities. We accurately value everyone's contribution to our society. We clarify that diversity makes us strong! (Diversity).
We call for inclusion and opportunity for all "types of people" across our society. We reject any situation or action that treats some "types of people" as inherently more valuable than others (Justice).
We stand up against harmful treatment or opportunity denial. Through our anti-hate messages, we insist that all people should be respected, fairly treated, and supported. We ask others to act, as one 3rd grader put it, like "everyone belongs"! (Action)
Sample #USvsHate Dialogue Agreements
As adults and young people trying #USvsHate anti-hate lessons and messaging, we will support one another as we talk.
In our #USvsHate conversations,
We will believe in each other's equal human value and potential.
We will show care and respect for others' well being.
We will not accept stereotypes about each other.
We will not "spotlight" people (force them to represent "their group" in a conversation).
We will keep learning to describe people more accurately, as individuals and as members of communities.
We will consider how all people in our society deserve opportunities to live, learn, be safe, and be happy.
We will think critically about how to respond when people do not get these opportunities.
We will stay committed to learning more about one another, our history, and our country — long after this lesson is done!