(This #USvsHate message by Mica Pollock and Minhtuyen Mai was made into a sticker and used to launch the project.)
#USvsHate is an educator- and youth-led messaging project designed to counter bigotry in schools and create safe and welcoming classrooms. We seek to unite school communities against the recent hate surge, by catalyzing ongoing learning and action.
Our goal is to refuse hate together, while embracing inclusion and justice for all in our diverse society.
All while providing students with opportunities to make their voices heard beyond the classroom!
How does #USvsHate work?
explicitly address, explore, and refuse racism, xenophobia, homophobia, Islamophobia, anti-Semitism, sexism, or other forms of hate, bias and injustice in schools and society;
communicate that people across lines of difference contribute to our communities, regions, and nation, are equally valuable, and deserve access to opportunity and well-being;
bust a myth (challenge a stereotype) about a "type of" kid too often misrepresented;
ask people to treat each other kindly, fairly and respectfully, so schools stay safe for learning and society includes us all.
Schools display messages via school walls, activities, or websites to shape school climate. Educators and students then submit chosen messages to #USvsHate for broader sharing.
Twice a year, winning entries in our #USvsHate contest will be amplified nationally via our website and social media. A subset will be made into free posters and stickers sent back to participating classrooms!
Educators and students then ask themselves: What's Next? And choose a next step for learning and action.
Our 2019-20 contest deadlines will be in November 2019 and April 2020!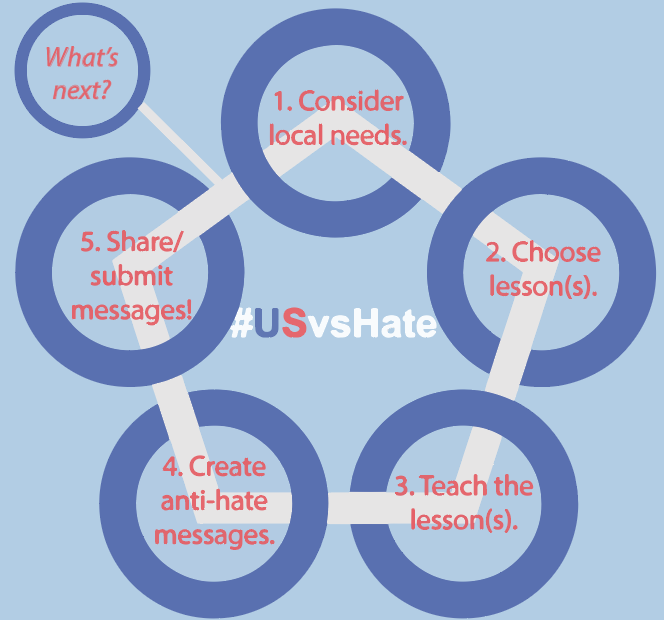 The goals of #USvsHate are to:
shape school climate to emphasize safety and inclusion for all;
help students more fully know, value, and respect themselves and the people they share their school, community, and nation with;
build and amplify youth voice;
encourage students to take action against hate, bias and injustice in society and schools;
equip teachers with dialogue tools, and curricular resources from national educator support organizations;
catalyze ongoing intergenerational learning in school communities;
facilitate networking between educators involved
Whether messaging ends up on one classroom wall or gets shared digitally to thousands, we hope #USvsHate's public anti-hate messaging will help reshape the speech, symbols, and messages students across the U.S. see, hear and repeat every day. Publicly saying no to hate is our place to start. Our messages insist publicly that all people are equally valuable.
This work is incredibly important today. 91.6% of teachers recently surveyed nationally agreed that "leaders should encourage and model civil exchange and greater understanding across lines of difference." We like to say this has always been educators' job—it's just more important now than ever. And youth voices can lead the way.
Every school community can help spread the message that all community members are part of "US"!
(What do we mean by "hate"?)
Right now, we're defining "hate" as any time people denigrate, disrespect or harm an individual or group as if they are an inherently inferior type of person. See Definitions and Concepts and The Thinking Behind #USvsHate for more!
#USvsHate is about standing up when people get hurt, whether that hurt is subtle or not. That's why #USvsHate is about embracing inclusion and justice for all in our diverse schools and society.