#USvsHate Collective Action Project

What is #USvsHate?
Thanks for joining #USvsHate, a youth empowerment project that engages teachers and students in creating and sharing pro-inclusion and anti-hate messages! We seek to unite school communities against the recent hate surge.
Sign up to join our community so we can contact you about student products and updates as we go along, and connect you to other educators trying #USvsHate!
How does #USvsHate work? The details for the 2018-19 school year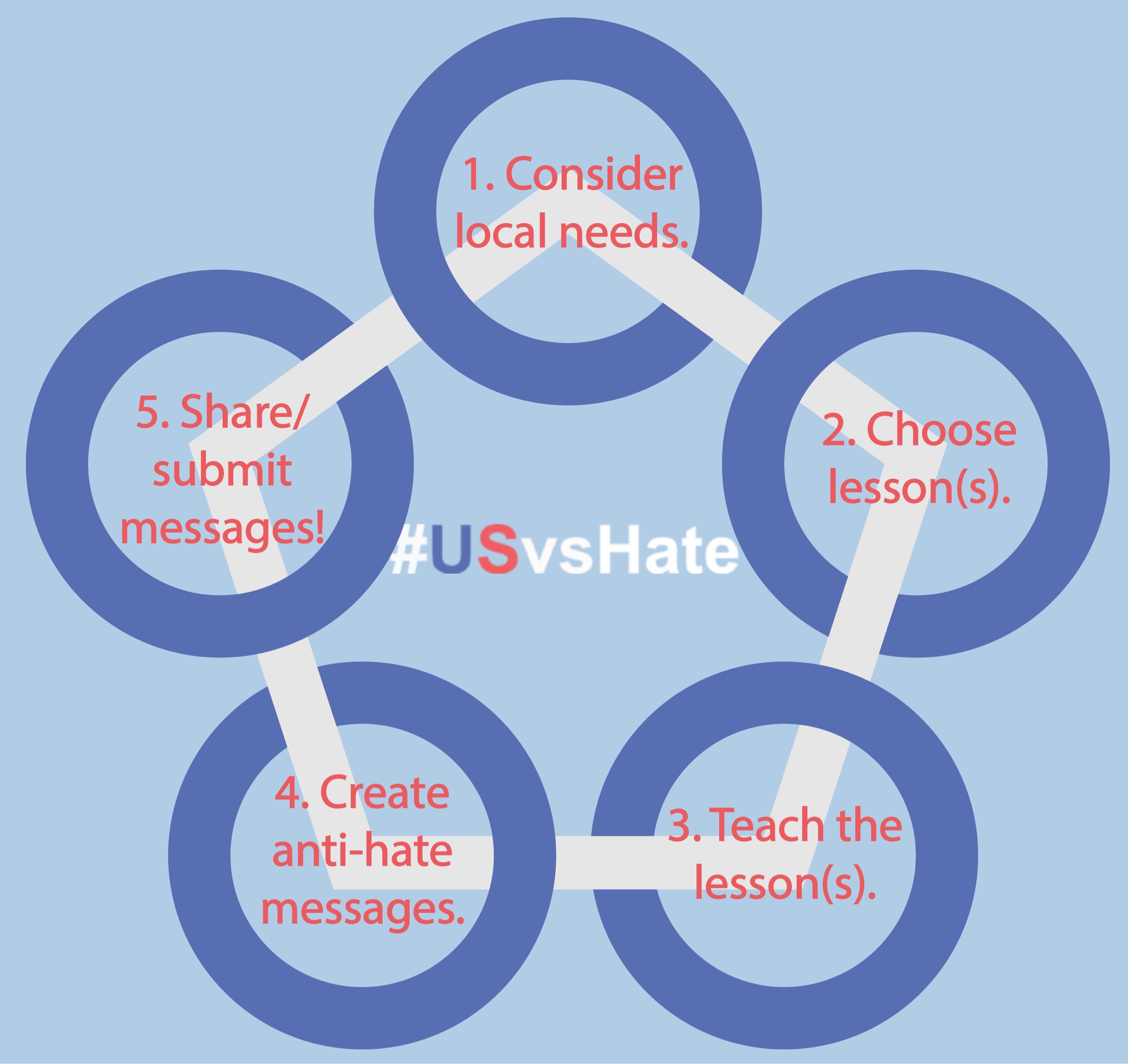 1. Consider local needs.
Ask yourself

: which issues of inclusion do we most want to get students talking about in our school? Which of my own skills and knowledge do I most want to build? And most importantly, who should I invite to join me in this project?

Frame the effort to administrators and potential partners. Share this website with educators who might be interested. Enlist the support of administrators. Explain that #USvsHate is an effort to help school communities unite together. This is not partisan; we are inviting all voices into a collective dialogue about inclusion.
Decide who is participating. We want this project to generate the space for any student interested, but we also want to work with willing educators. You might consider locating this effort in one or more classrooms, with lessons taught by teachers or counselors; in an afterschool club; or in a conversation hosted by staff in a school district. One pilot educator included parents in her #USvsHate activities.
Get a baseline on inclusion and intergroup relationships at your school right now. Before teaching any lessons, we highly encourage you to offer students the opportunity to comment on the current climate for inclusion and intergroup relationships in your school. (You can print the same questions on paper for students.) Students can comment anonymously and we'll email you the results. This will help you get a baseline on necessary interventions and also help you choose lessons for #USvsHate! #USvsHate staff will use the same pre-survey to keep tabs on the project this year, so that we can help address any needs as we go along.
2. Choose lesson(s)!
Review the lessons. It's a gold mine, so give yourself enough time to read and choose! We have organized #USvsHate lessons into three sections, and we have additional resources for professional development. (You might check out the tools for productive group dialogues before starting!). Be sure to sign up for our community so we can support each other, now and longer term!
You can ask your students to make #USvsHate anti-hate messages after just one lesson. We hope that you might go beyond a single lesson to a short series of lessons! Jump in where it works: choose lessons that fit your school's needs, your curriculum, and your student relationships. Remember the ultimate goals of #USvsHate: we want students to more fully know and value the people they share their school and community with, and we want to encourage students to take action against hate.
3. Teach the lesson(s).
After any #USvsHate lesson, we encourage you to ask students how the lesson affected them.

You can let students know their take on our survey will help us make sure #USvsHate goes well for students this year – and maybe inform future #USvsHate activities! We can send you results for your own class.
At the end of your #USvsHate effort, please share your thoughts on how #USvsHate went. Your take on our survey will help the #USvsHate team make any necessary adjustments to the #USvsHate process and materials during the 2018-19 pilot.
4. Create anti-hate messages.
Invite students to create anti-hate messages to end any #USvsHate lesson, or to end a series of lessons. Each of our resource lists ends with suggestions for prompting messaging. If you know you're going to submit messages to #USvsHate for broader sharing/our contests (see below), you can also give students this Guide and let them run with it!
Students' anti-hate messages can be made in any media: hand-drawn or digital images, to become stickers and posters or shared digitally as memes; essays; poems; performances; videos; public statements; speeches; tshirt designs; etc. An anti-hate message can be drawn by hand on paper, or created digitally using a phone or computer. A speech into a smartphone camera, a great letter to the editor, a poem, or a school performance can be an anti-hate message! Don't limit your creativity! Emphasize that messages can offer powerful words and powerful visual images. You don't have to be an amazing artist or filmmaker. The real power is the message!
To prime students' messaging, you might ask students to find a poster, image, speech, video, poem, etc. that really speaks to them and consider what about it is so powerful.
Remind students that the goal is to create an original #USvsHate message that will do one or more of the following:
explicitly address, explore, and refuse racism, xenophobia, homophobia, Islamophobia, sexism, or other hate forms in schools;
communicate that people across lines of difference contribute to our communities, regions, and nation;
bust a myth about a "type of" kid too often misrepresented;
ask peers to treat peers kindly and respectfully so schools stay safe for learning.
Emphasize that no message submitted should be harmful or hateful to others. #USvsHate!
Highly recommended: facilitate a dialogue to help students hone their draft anti-hate messages. This is another great opportunity for anti-hate dialogue – and you can help students improve their #USvsHate submissions for entry into our contest! (See below.)
Invite students to share their draft messages with peers for feedback. Acknowledge first that the goal is to hear and learn from each other: don't hate on anyone's message! If you disagree with the message, address the message, not the creator personally. Ask students to find something about others' messages that they can affirm and compliment in some way.
Ask students to comment on one another's work: how does each anti-hate message realize one of the four goals above? Why would you love to see its message shared broadly? How could the message help a school community unite, clarify an issue, or keep learning and talking? What else could you do to make its message even more powerful?
To be considered for a "winning" #USvsHate message in our contest (see below), the message also must do the following. See our Guide for full instructions:
Include the hashtag #USvsHate.
Be both creative and original

. (Use original words and other material. Don't plagiarize. A design could make a common slogan original, but our preference is new words and ideas. Do not use clips from music, videos, or other media that is copyrighted by others. If you use others' publicly available material, credit the creator whenever possible.)
Successfully communicate the #USvsHate message of inclusion, to a group of peers.
5. Share/submit messages!
Share students' anti-hate messaging locally. Then, submit "best" messages to #USvsHate for broader sharing!
Schools can share and spread students' anti-hate messages locally on school walls or websites, on school T-shirts, or via other school activities, like assemblies to highlight live speeches or theatre presentations.
Educators can submit students' favorite messages to #USvsHate at any time for potential broader sharing via our website and social media. (Students can submit their own as well, with parents' permission.)   We'll share out messages we particularly like to get people excited about the upcoming contest! Just keep your eye out for #USvsHate on social media. Any message submitted will also be considered for our contests.
Invite students to select their "best" #USvsHate messages for our February and April message contests!
We encourage each participating classroom, club or school to select one or more #USvsHate messages to submit collectively to our #USvsHate contest.

 (You might set up some voting process where students select classroom or school's entries.) We encourage group submissions that combine student skills!
We don't limit contest entries; it's your call how many you submit.

For students under 18, parent/guardian permission is required for any entry submitted with a student's name on it.

Here's a permission slip

educators can use to get that parent permission, as needed.
A submission to our contest should be high quality enough to be reproduced for many. 

As noted on the 

Guide to Creating a #USvsHate Message

, any image submitted for reproduction as a poster or sticker should be high-quality and reproduction-ready (no pencil; no tiny writing; make sure images are clear and not blurry). Please make sure to add the #USvsHate hashtag.
Winning entries (chosen by students) will be amplified nationally via our website and social media. Winning images also will be made into free posters and stickers for participating classrooms. We'll share other winners digitally. Check out our first winning messages!
#USvsHate 2018-19 contest deadlines: 
February 22, 2019, and April 26, 2019.
Questions? Email Mica Pollock, micapollock@ucsd.edu, ccing Minh Mai, mlmai@ucsd.edu.